206 – [On Air Coaching] How to Take Your Business to the Next Level with Samatha Spencer of Bird Box Gifts
Listen to the Episode Below
Podcast: Play in new window | Download
Subscribe: Apple Podcasts | Android | RSS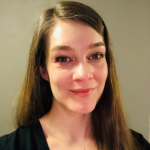 Samatha is the owner of Bird Box Gifts. She specializes in gift sets and curated gift boxes and is ready to take it to the next level.
The idea for Bird Box Gifts came about as she began putting gifts together for customers in her husband's gift shop. Men would come in looking for Mother's Day gifts and look a bit lost. She would come to their rescue and create custom gift combinations that thrilled the moms and made the husbands look like stars.
That led to providing a similar service for graduations and all sorts of life events.
Bird Box Gifts was born! It's time now to build upon what has already been created.
Samatha also has a full time job so it's important to work efficiently and make all activities really count. She's decided to focus on gift funnels as the strategy to grow her business and attract corporate accounts.
What are gift funnels? You'll hear all about them in the show. I think her plan is right on!
Business Building Insights
When you see someone else making progress and they are in the same industry, it means there's a market for what you do. Now it's time to go grab your piece of the pie.
Visibility through multiple channels is the key to consistent sales.
Make sure your immediate network knows that you are in business. That means family, friends and others within non-business groups like schools, book clubs, etc.
For Samatha, she has access to new customers through her husband's gift shop. Where in your life do you have additional access that you're not thinking of until now?
It's possible to build a business even with a full time job. You just have to be very intentional with your time and focus on the most important activities that can bring in business.
Skills developed through other careers can enhance what you are doing in your own business.
Switch the focus from selling your product to the result your product will give a new customer.
Contact Links
Gift Biz Resources

If you found value in this podcast, make sure to subscribe and leave a review in Apple Podcasts or Google Podcasts. That helps us spread the word to more makers just like you.
Thanks! Sue