People are attracted to happy with Eileen Cyrus of Just Because IYQ Tea Room
Listen to the Episode Below
Is your biz set up for success?
Take the Gift Biz Quiz to find out
Podcast: Play in new window | Download
Subscribe: Apple Podcasts | Android | RSS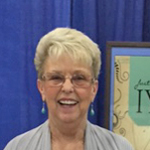 Episode 009 – Eileen Cyrus is a Vietnam Veteran having spent 12  years in the US Air Force. Once she retired from Civil Service she spent 10 years working several small jobs while also caring for her mother and father-in-law.  She opened a gift boutique thinking that would fulfill her passion for a business of her own, but it didn't totally satisfy her. Now – at last – she has found and followed her dream. Just over a year ago she opened Just Because IYQ Tea Room and Gifts in the Myrtle Beach area. Eileen enjoys reading, fishing, and playing with her grandchildren. She also loves to cook and try new recipes. No surprise there!
Motivational Quote

A Candle Flickering Moment
1. Negative Facebook backlash from a disgruntled employee. Listen in to hear her strategy in these situations. [15:25]
2. Running out of product and missing out on sales. This led to a perfect restocking plan. [11:32]
Business Inspiration
From her grandmother, way back in the 50's she fondly recalls how special she felt dressing up and going to tea together. [3:52]
Business Event Insight
Free and music are a winning combination. Hear about the quarterly hat exchange targeted for the nearby church women's groups. [21:22]
Success Trait
Eternal optimism keeps her always viewing the glass half full.[26:49]
Productivity/Lifestyle Tool
Square – Point of Sale (POS) System
Prayer
Mastermind Group
Valuable Book
Think and Grow Rich by Napoleon Hill
Contact Links
Website
Facebook
Twitter
Google Plus
TeaMap.com
If you found value in this podcast, make sure to subscribe and leave a review in Apple Podcasts or Google Podcasts. That helps us spread the word to more makers just like you. Thanks! Sue