290 – An Email Marketing Plan – The Often Forgotten Powerhouse to Increase Sales with Chloë Thomas of eCommerce MasterPlan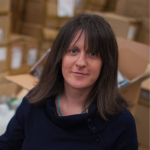 Do you resist email marketing for your business as too hard or complicated? The truth is, a good email marketing plan can be a real powerhouse to help you increase sales. And today we've got Chloe Thomas here to help us out.
Chloë has been working in direct marketing since 2001. It started with a focus on in-store loyalty programs, catalog mailings, and email marketing.
From there, she brought several established mail order businesses into the internet age – launching websites, first-ever email campaigns, as well as Google Adwords and affiliate marketing.
Following her success there, Chloe transitioned her experience into a marketing agency all its own. She expanded into B2B marketing and sales and learned more about retail and eCommerce by working with everyone from high street retailers to pure play online startups.
In 2012 Chloë realized her future was in helping eCommerce businesses work out what marketing they should be doing and so eCommerce MasterPlan was born.
BUSINESS BUILDING INSIGHTS
Keep optimizing. Stop being a perfectionist and get your product out there. Then revisit it and use customer feedback to make it better.
Don't give up when something doesn't work as well as you'd hoped. Keep optimizing it -that's your pathway to great success.
Listen to your customers. They will direct you to where you should go to make more sales.
Email Marketing Plan Tips
Why is email marketing important? Because it's the core of your ability to communicate with your customer via a channel YOU control.
Good email marketing helps you build connections and relationships with your customers.
You already know how to build a relationship with your customers in person. Email is just an extension of that.
Email signups and sales are as strong as they were 5 years ago. So email is still a great tool to build your business.
Give people a compelling reason to sign up for your list. Figure out what's valuable to YOUR customers, rather than what you see others doing.
Listen to the full episode for tips & ideas to get sign-ups!
Ask for replies and feedback in your emails to build the relationship and encourage connection. Replies to your emails will improve your deliverability, too. <– Pro tip!
Keep your list active so that when you send out important emails (like for the holidays) they remember who you are.
Don't know what to put in your emails? Tune in for TONS of email ideas!
Platforms – if what you're using is working for you, don't switch. Only switch if you need something your current platform doesn't do. If you do switch – do it in the off-season, never during the holidays.
Much more info than can be shared here. Listen to the full episode to get it all!
Resources Mentioned:
Chloe's Contact Links
Website | Facebook | Instagram | Twitter | Linkedin
---
Join Our FREE Gift Biz Breeze Facebook Community
Become a Member of Gift Biz Breeze
If you found value in this podcast, make sure to subscribe so you automatically get the next episode downloaded for your convenience. Click on your preferred platform below to get started.
Also, if you'd like to do me a huge favor – please leave a review. It helps other creators like you find the show and build their businesses too. You can do so right here: Rate This Podcast
Apple Podcasts | Google Podcasts | Spotify
Thank you so much! Sue
Know someone who needs to hear this episode?
Click a button below to share it!