020 – Her Biz Revitalized the Entire Town with Jenny Doan of Missouri Star Quilt Company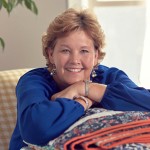 Jenny Doan and her husband Ron, live in a small Missouri town and love the rural life. She has seven children and twenty-one grandchildren. She also has an infectious smile, and a knack for breaking down even the most challenging quilt projects into quick and easy steps.
In 2008 Jenny and her family started The Missouri Star Quilt Co and began producing weekly tutorials on YouTube. Since then, she's been featured in numerous articles, and is the subject of the wildly popular quilting magazine, BLOCK.
With more than 300 YouTube video tutorials, that have been viewed over 50 million times, it's no wonder that Jenny Doan has been called "the most famous quilter in the world".
Motivational Quote

Business Inspiration
"Is this a thing?" [7:08]
Her children identified an opportunity [11:13]
A Candle Flickering Moment
The hurdle of adding that first employee [14:09]
Clues on the identifying the best people and the to hire [16:20]
Business Growth Insights
Love what you do [12:20]
You Tube and overall internet impact [18:20]
From a customer's mouth [20:52]
Success Trait
Cheerful and nice sounds small but has huge imact [23:55]
Productivity/Lifestyle Tool
Reading … why it's important for her [27:21]
Valuable Book
No One to Trust by Iris Johansen
Contact Links
If you found value in this podcast, make sure to subscribe and leave a review in Apple Podcasts or Google Podcasts. That helps us spread the word to more makers just like you. Thanks! Sue