160 – Hello Corporate Business with Nikki Rausch of Sales Maven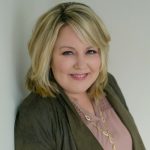 Nikki is the Founder and CEO of Sales Maven, an organization dedicated to authentic selling. Her success comes through the unique ability to transform the misunderstood process of "selling."
With 24+ years of experience, selling to such prestigious organizations as The Bill & Melinda Gates Foundation, Hewlett-Packard, and NASA, Nikki shattered sales records in many industries and received multiple "top producer" awards along the way.
Today, entrepreneurs and small business owners hire Nikki to show them how to sell successfully and authentically, without being pushy or "salesy."
Nikki shares the secrets of her sales success through illuminating keynote addresses and business-changing workshops. Her robust Sticky Selling Master Academy produces game-changing outcomes for clients, many of whom have also reaped the benefits of her immersive VIP consultations.
The Start of Sales Maven
Nikki experienced the world of sales with her first job out of college, in the technology space. Then when she moved to Washington, she had a commissioned sales job in the mall during the holiday season. This was a turning point.
Being able to have control over what she was making and being financially rewarded is what attracted her to sales longterm. Nikki also has a great love for engaging with people and building relationships. Combined, this is the formula for the success she has in her business, Sales Maven.
Business Building Insights
When you add flexibility to your behavior you have more influence.
Flexibility allows for authentic conversations to happen.
Put the relationship first and the sales come.
The 'NO' today doesn't mean that they will never buy. Just not today.
If someone is indicating interest, it's up to you to take them to the next step.
Make it easy for people to say YES.
If you're getting a buying signal you have to invite them to do business.
Use your network. Introductions are the number one way to open doors.
When you're asking a question your tone of voice, body language and facial expression should convey curiosity.
The absolute best time to ask somebody for a referral is when they're giving you positive feedback or a compliment.
Social Media should be used for building relationships.
Give people an opportunity to know you before you start selling to them.
You are the expert and you lead the sale process.
Nikki's Free Gift
Navigating Difficult Conversations – a 7-minute training including a manual!
Resources Mentioned
Nikki's authored two books, both are available at Amazon: "Buying Signals: How to Spot the Green Light & Increase Your Sales" and "Six-Word Lessons on Influencing with Grace"
Contact Links
Gift Biz Resources
If you found value in this podcast, make sure to subscribe and leave a review in Apple Podcasts or Google Podcasts. That helps us spread the word to more makers just like you.
Thanks! Sue