197 – Creating Edible Fabric! with Marilyn and Joe Bawol of Unique Flexique ®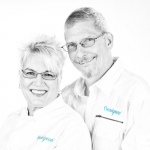 A natural-born artist, Marilyn thrives on combining her well-honed sculpture and painting skills with her talent and passion for baking and edible creations.
As the Owner and Creative Director of Unique Cakes, she specializes in non-traditional wedding cakes, three dimensional sculpted cakes and blown & pulled sugar amenities.
Her constant experimentation with different products and processes eventually led to her discovery of a unique edible fabric-like compound called Flexique® which has been receiving international acclaim for its unique variety of uses.
As a co-owner of Unique Flexique, LLC, Marilyn has pioneered new techniques in cake decorating, and is the leading authority on all applications of the Flexique® line of products. She continues her exploration and development of unique edible accents, and shares product combinations and innovative uses with the community.
Joe has been instrumental in running the operations of Marilyn's cake business since he understands the cake community so well. He is also the co-owner of Unique Flexique which produces the Revolutionary Flexique® product line.
Business Building Insights
The great thing about having your own business is you are the one who gets to pick and choose what you want to do.
Ways to get customers: Word of mouth referrals, social media marketing, through your website, joining a networking organization such as the Chamber of Commerce.
Your website represents the level of professionalism of your business. It's your online face to the public so you want to make sure it's done right.
You do yourself an injustice by pricing low. Charge what your product is worth.
Demonstrations showing what your product can do catches people's attention and curiosity. It increases the potential of a sale.
You should seek out trade shows where there is an educational element like classes and stage demonstrations. It adds additional value to the attendees and increases participation and interest in your product too.
Legally protect your product before you put it out into the public.
Contact Links
See Flexique® in Action – Video Links
Gift Biz Resources
Learn to make money doing what you love. You're a gifter, baker, crafter, or maker … and you're stuck in a day job. You'd love to turn your one-of-a-kind jewelry or heavenly chocolate into a profitable business, but you have no idea where to start. How the heck do people turn their creative business dreams into reality?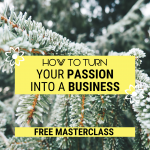 Learn the ONE thing that will take you from 'hobbyist' to 'pro' in no time
Discover the 5 crucial steps to give your business a solid foundation and set you up for massive growth
Find out how to be 2 steps ahead in your business so that your customer starts chasing you!
It's time to get out of your rut and dive into your future headfirst! Stop wondering about your next steps — instead, pour yourself something delicious, sit down, and let me show you how to turn your hobby into a money-making business.
If you found value in this podcast, make sure to subscribe and leave a review in Apple Podcasts or Google Podcasts. That helps us spread the word to more makers just like you.
Thanks! Sue