An American Under the Tuscan Sun with Jayne Wagner of Hickory Creek Winery
Listen to the Episode Below
Podcast: Play in new window | Download
Subscribe: Apple Podcasts | Android | RSS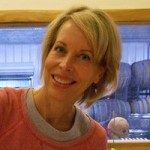 Episode 027 – Jayne's background includes over 25 years in advertising media. She began working for advertising agencies, then moved into print and digital advertising sales for national magazines including Reader's Digest, Good Housekeeping, Harper's Bazaar and Bon Appetit.
The work life was intense and called for frequent travel. After having been in NYC on 9/11 and then facing cancer 3 years later (fortunately diagnosed early), her desire to find a better life balance became a priority.
Jayne and her husband, Eric bought a weekend farm and vineyard retreat in SW Michigan 11 years ago, and became interested in making wine. They purchased Hickory Creek Winery 4 years ago and have since tripled sales in the tasting room.
Eric handles the winemaking and vineyard work. Jayne does all the marketing, sales, events, and managing of the tasting room.
Jayne take, "It's truly been a labor of love…with lots of blood, sweat and tears … but it is so rewarding to actually create and sell a beautiful product we crafted ourselves!"
Motivational Quote

Business Inspiration
The journey to buying a winery [6:08]
Renovation of the property to become a working business [8:30]
A Candle Flickering Moment
Overcoming being vulnerable to an uncontrolable element [10:12]
What moves the sales needle?
A big suggestion on how to hire [13:42]
The impact of a member only area [17:55]
Business Building Insight
What to do about your weaknesses [23:08]
The Zingerman 10 Second Rule [27:29]
Success Trait
Authentically curious and empathetic [22:02]
Productivity/Lifestyle Tool
Google Drive – A file storage and synchronization service that allows users to store files in the cloud, share files, and edit documents, spreadsheets, and presentations with collaborators.
Google Calendar – A time-management web application and mobile app.
Valuable Book
Zingerman's Guide to Giving Great Service by Ari Weinzweig
Contact Links
Website
Facebook
Twitter
LinkedIn
If you found value in this podcast, make sure to subscribe and leave a review in Apple Podcasts or Google Podcasts. That helps us spread the word to more makers just like you. Thanks! Sue