150 – Let's Give Your Logo a Checkup
Listen to the Episode Below
Podcast: Play in new window | Download
Subscribe: Apple Podcasts | Android | RSS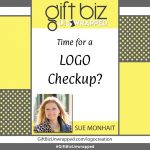 Episode 150 – When you start a business, your logo is one of the first things you'll think about. It's such fun to select your name and create your logo!
Here we'll cover how to make sure your logo is as beneficial to your business as it possibly can be.
If you are just starting out, this will help as you develop your first logo. And if you've been in business for a while, years may have passed since you've even thought about your logo. Now's the time to make sure it still properly represents your business.
What is a logo the first place?
It's the first visual representation of your company that prospects see. And for that reason alone it's super important. But it's only one part of your overall brand.
When we talk about a brand overall, it encompasses every touch point that a customer might have with you. It is the visual imagery in terms of your logo. But it's also the feel of the business when people come into your shop, when people enter your craft booth, the look of your promotional materials, and how you interact with people through a sale.
As you grow the business there comes a point where you should go back and check to make sure that everything is in sync and everything is aligned. Let's do that now.
Make sure to download the Logo Checkup Form below to jot down notes as we go along.
Time for Logo Check up?
Check #1
Is your logo aligned with your brand? [04:35]
Adjectives that describe your business. [04:45]
Check #2
Image Professionalism. [06:01]
Is it an original piece of art? [06:56]
Check #3
Consistency of your image. [09:05]
Is the logo the same everywhere? [09:18]
Check #4
Logo Quality. [10:57]
Look at your logo for detail. [11:50]
What do you do if you need to change your logo?
Total Rebranding. [14:31]
Look at your company name and the fonts. [14:44]
Colors that match your brand. [15:27]
Online resources that can help you with logo creation. [18:41]
Look right in your community. [18:55]
CAUTION as you're looking at any changes to your current logo
Is it clean, crisp and clear? [20:17]
Will it look good in black and white? [20:30]
Receive all logo file formats. [20:33]
DOWNLOAD

the Logo Checkup Worksheet
This one sheet freebie is like taking  your logo to the doctor. Check it's health and overall viability in supporting your business. Fix any areas where you can't check the box and you're good to go!
Resources mentioned in this episode
DaFont
Fonts.com
MyFonts
1001Fonts
TheFontHub
There are many places you can go and look for fonts. Just google it. BUT, make sure if you find one you like that it's free for your intended use AND be very careful when you download. Many of these sites have multiple buttons that say download. They may be for the font or they may be for a new toolbar or something else entirely. Just make sure before you click that you are sure what you're downloading.
Where are you in your business building journey? You may be further along than you think. Take this quiz to find out. At the end, you'll have access to a free download to help you along. P.S. This is not a quiz where your result gets published to social media. It's for your eyes only :o)
Feel the pride and satisfaction of turning your passion into a profitable business. Become a member of the Makers MBA program and access valuable videos, worksheets, and guides and connect with a community of gift biz builders just like you. It's time to get moving on your dream. Get started today!
If you found value in this podcast, make sure to subscribe and leave a review in Apple Podcasts or Google Podcasts. That helps us spread the word to more makers just like you.
Thanks! Sue