Yarn Bombing! with London Kaye
Listen to the Episode Below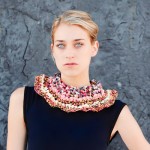 Episode 045 – London Kaye is a classically trained dancer who discovered her passion for crochet at the age of thirteen. London received a dance scholarship to NYU and after graduation, dove into the local street-art scene. She began developing her signature style by crocheting on fences.
She has adorned the windows of ABC Carpet and Home and has recently crocheted pieces for major brands including Starbucks, Miller Lite, Chex Mix, and the TBS Network. According to Condé Nast Traveller, "London Kaye is the one to watch."
Motivational Quote

Business Inspiration
What is Yarn Bombing? [3:53]
How she got started [5:08]
A Candle Flickering Moment
When a neighborhood challenged her display [14:01]
Business Building Insight
London's first paid job – NY Fashion Week [6:22]
Understanding the value of a handmade product [11:53]
A solid pricing strategy [12:40]
Building her business through Instagram [19:08]
Telling the story behind her work in Facebook [20:58]
Setting goals for moving forward [24:58]
Success Trait
Her passion for crochet has led her to this business and a life she loves.
Productivity/Lifestyle Tool
My Shining Business Planner – Turn your New Year's resolutions from faded-out forgotten wishes in a month's time into actual dreams come true. They are essential catalysts and companions to helping you unfold your most incredible year yet in business and life.
Valuable Book
The Tipping Point by Malcolm Gladwell
David and Goliath. by Malcolm Gladwell
Contact Links
Website
Facebook
Twitter
Instagram
If you found value in this podcast, make sure to subscribe and leave a review in Apple Podcasts or Google Podcasts. That helps us spread the word to more makers just like you. Thanks! Sue