198 – How to Use Email as a Product Biz with Megan Auman of Artists and Profit Makers
Podcast: Play in new window | Download
Subscribe: Apple Podcasts | Android | RSS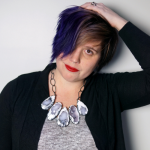 Megan Auman is a jewelry designer, metalsmith and educator with over a decade of experience in selling art through a variety of channels.
She designs for women who want to be effortlessly bold. She says, "You need jewelry that makes a statement but is easy enough to wear every day.
You need pieces that make you feel fantastic every time you put them on. Something that reflects your confidence and strength.  A kind of armor that helps you tackle your day, every day."
Currently, Megan is running her eponymous jewelry line and the online community Artists & Profit Makers for fellow creatives who sell high-end products.
Megan has seen talented makers walk away from creating because they are given one-size-fits-all marketing advice that just doesn't translate to the world of selling art.
A best-selling CreativeLive instructor, her designs have been featured in Elle Decor, Better Homes & Gardens, Cooking Light and on top-rated blogs like Design*Sponge.
Business Building Insights
The beauty of wholesale accounts is that once you've established contacts you can reach out to them over and over again.
Wholesale trade shows are an excellent place to start as you begin to develop relationships.
There's no one right way to run a business. You have to figure out what works best for you.
Your product does not need to solve a problem in order for it to sell.
Show off your product through experienced based marketing: what it tastes like, what it looks like, how it feels and the experience of using it.
Add  a human element to your photography. We are trained to read emotions through other humans; whether it's the expression or a movement like reaching for something.
Email is a powerful way to connect with customers.
Put a call to action on your sites and social media to collect emails for your list.
Contact Links
Website
Facebook
Instagram
Twitter
Gift Biz Resources
Learn to make money doing what you love. You're a gifter, baker, crafter, or maker … and you're stuck in a day job. You'd love to turn your one-of-a-kind jewelry or heavenly chocolate into a profitable business, but you have no idea where to start. How the heck do people turn their creative business dreams into reality?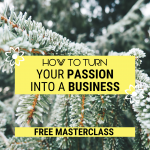 Learn the ONE thing that will take you from 'hobbyist' to 'pro' in no time
Discover the 5 crucial steps to give your business a solid foundation and set you up for massive growth
Find out how to be 2 steps ahead in your business so that your customer starts chasing you!
It's time to get out of your rut and dive into your future headfirst! Stop wondering about your next steps — instead, pour yourself something delicious, sit down, and let me show you how to turn your hobby into a money-making business.
If you found value in this podcast, make sure to subscribe and leave a review in Apple Podcasts or Google Podcasts. That helps us spread the word to more makers just like you.
Thanks! Sue