192 – Be the BEST Product Boss Minna Khounlo-Sithep
Listen to the Episode Below
Podcast: Play in new window | Download
Subscribe: Apple Podcasts | Android | RSS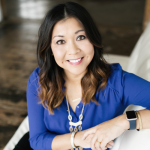 Episode 192 –  Minna is one busy woman owning two separate businesses, Lil' Labels and The Product Boss Podcast.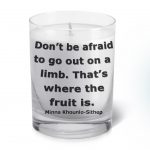 Lil' Labels are writable, waterproof labels for baby items for daycare and is an Amazon bestseller.
Minna also co-owns and co-hosts The Product Boss Podcast and coaches product-based business owners how to grow their businesses and connect with other product entrepreneurs through Masterminds.
She lives in Iowa, is the mom of two little girls, and loves living her passion as mom and CEO.
Business Building Insights
One way to identify a product to create is to look for problems in your life that can be solved.
Be okay with the slow months and use them strategically to build inventory and test new concepts.
Push the busier months based on the results and learning from slow month testing.
Focus on growing annual revenue and margin rather than the unit sold at a consistent rate throughout the year.
On slow months, work on building an email list and waiting list so you're primed when it's your strong season.
For product inserts, add only one call to action for it be effective.
Challenges
Start ups – mindset, self doubt, burning time and money, knowing what your options are.
Growth – How do you make more money? How do you make more sales?
Expansion – Figuring out the process for scaling.
Resources Mentioned
Jen Eby from Eby Farms – Great example of using social media videos and live streaming
Zulily
Groupon
Jane
Postmark
Sassy Steals
Groop Dealz
Contact Links
Gift Biz Resources
Learn to make money doing what you love. You're a gifter, baker, crafter, or maker … and you're stuck in a day job. You'd love to turn your one-of-a-kind jewelry or heavenly chocolate into a profitable business, but you have no idea where to start. How the heck do people turn their creative business dreams into reality?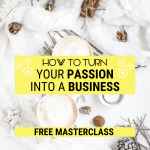 Learn the ONE thing that will take you from 'hobbyist' to 'pro' in no time
Discover the 5 crucial steps to give your business a solid foundation and set you up for massive growth
Find out how to be 2 steps ahead in your business so that your customer starts chasing you!
It's time to get out of your rut and dive into your future headfirst! Stop wondering about your next steps — instead, pour yourself something delicious, sit down, and let me show you how to turn your hobby into a money-making business.
If you found value in this podcast, make sure to subscribe and leave a review in Apple Podcasts or Google Podcasts. That helps us spread the word to more makers just like you.
Thanks! Sue