156 – Our High School Students are Starting Companies with Rebekah Peter of RADD-Tees
Listen to the Episode Below
Podcast: Play in new window | Download
Subscribe: Apple Podcasts | Android | RSS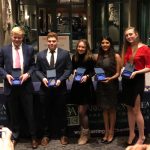 Episode 156 – RADD-Tees is an art t-shirt company that began with five high school students and a class assignment.
High school artists submit designs via the RADD-Tees website. Once the design is accepted it is included in the shop and available for purchase. Online orders are taken for a design and printed on t-shirts.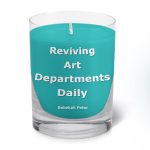 Part of the revenue from each shirt goes to the artist who created the design, and some also goes to the students' high school art department.
This provides a win-win for everyone involved. The artists have their images available to the world, the art departments gain additional financial support, and we all get to wear some cool t-shirts!
The Start of RADD-Tees
RADD-Tees started with five students from Barrington High School who are in the Business Incubator Program. After brainstorming their options, they decided the business was going to be making t-shirts. But in a unique way. Knowing that the art departments of high schools are underfunded compared to sports teams, they set out on a mission to provide financial support to this sector.
Business Building Insights
Get the word out into the market about your product. People don't know you exist unless you tell them.
Tips when preparing for a Pitch: Be aware of what you're wearing. Talk loud. Make eye contact.
Practice your presentation so you can show that you're confident.
Social Media Tip: If you are attending events, make sure to post about it all day long. These posts will get a lot of engagement giving you more visibility.
Don't be afraid to take risks.
Be consistent with social media.
Contact Links
Gift Biz Resources
Where are you in your business building journey? You may be further along than you think. Take this quiz to find out. At the end, you'll have access to a free download to help you along. P.S. This is not a quiz where your result gets published to social media. It's for your eyes only :o)
Feel the pride and satisfaction of turning your passion into a profitable business. Become a member of the Makers MBA program and access valuable videos, worksheets, and guides and connect with a community of gift biz builders just like you. It's time to get moving on your dream. Get started today!
If you found value in this podcast, make sure to subscribe and leave a review in Apple Podcasts or Google Podcasts. That helps us spread the word to more makers just like you.
Thanks! Sue