055 – The Power of Pop By Gifts with Sharon Day
Listen to the Episode Below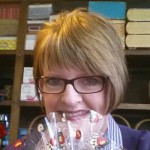 Episode 055 – Sharon Day is the Owner and Head Designer at Express Yourself Gifts and Baskets, and the only Certified Gift Designer in Massachusetts. The winner of two National Design Awards in 2015, Sharon is in her 21st year designing corporate and personal gifts and baskets. Custom designs are her specialty and she creates everything from small client touch gifts to elaborate designs fit for a Queen.
Motivational Quote

Business Inspiration
From Opera Singer to Gift Basket Designer [2:48]
The $30,000 order that started it all [3:39]
Candle Flickering Moments
The effect of 9/11 on her business [10:38]
A pivot in the business plan based on current events [11:53]
Business Building Insight
Sharon's take on her competitors [6:54]
Pop By Gift Club  [15:49]
Multiple income streams are a key to survival [19:14]
How Sharon gets her business today [21:34]
How to see monetary value in networking events [24:52]
The power of simplifying your life for business [32:20]
Success Trait
Sharon says that her mind works in pictures. In her creative career this ability to envision immediately the solution to a client's request has led to her ability to WOW! her customers and become a valued part of their marketing strategy. [27:06]
Productivity/Lifestyle Tool
Expensify – Capture receipts, track time or mileage and creating expense reports quick and easy
Invoice Simple – Quickly and accurately create, email, and/or print professional looking estimates, invoices, and receipts with embedded photos at the office and in the field.
Valuable Book

Simplify by Joshua Becker
Contact Links
Website
Facebook
Twitter
LinkedIn
Instagram
If you found value in this podcast, make sure to subscribe and leave a review in Apple Podcasts or Google Podcasts. That helps us spread the word to more makers just like you. Thanks! Sue