154 – Social Media Tips You Won't Hear Elsewhere Direct from SMMW18
Listen to the Episode Below
Podcast: Play in new window | Download
Subscribe: Apple Podcasts | Android | RSS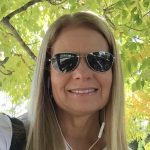 Episode 154 – I'm fresh back from Social Media Marketing World 2108. This is a conference gathering over 5,000 people from all over the world who come to hear from the leaders in the industry all about the latest and greatest social media tips. There were over 100 speakers and guess what? It's not just about social media. It's also about blogging, podcasting and other creative communication outlets.
This is my second year at SMMW18. As with any conference, I benefit in many ways over and above learning from the speakers. There are always new options for tools and services I uncover from the exhibitors. And I attend organized events with smaller groups where I get to meet up in person and enter into the most valuable of conversations. Finally, there are the awesome new people I meet throughout the three days.
It was no surprise that this was fabulous event. I want to take you back there with me. So I'm going to share my approach to getting the most out of any conference I attend. The big three themes or overall trends discussed time and again. And the big 4 Social Media Tips you most likely won't hear anywhere else.
How to Benefit from a Conference
Identifying your top 3 goals before you go to an event helps ensures you leave with specific learnings that will advance your business. It's easy to get overwhelmed by all the information and activities. This keeps you on track and I cover my process in detail in a blog article here.
Here were my 3 Goals and what I wanted to walk away being able to affect in my businesses.
The new Facebook Algorithm. What is it all about and how should I adjust my social media strategy moving forward.
Live is "everything" on social right now. What are the newest recommendations and best practices to take advantage of this trend.
Book publishing. I have been working on a book for about two years. It's time I get it done and I wanted to investigate how to do this. Ends up I hired a writing coach … so I'm telling the world, my book is coming out this summer. Nothing like accountability!
Big 3 Overall Themes
LIVE – This is what works on social media today and brings results. It's the way to connect with people that over time converts to sales.
MESSENGER BOTS – Facebook Messenger Bots have everyone talking. Watch what happens in your account over the next few months and get acquainted with this option for your business. Some are skeptical but it's definitely on the map of what's to come.
CONSISTENCY – None of this works if you don't show up regularly and at the same time.
4 Social Media Tips
I give all the details behind these tips in the show. They're a powerful mindset switch!
Market like a magnet. Attract the best – repel the rest.
Talk to your audience – not friends, peers or ego!
Take your photos then live your life in the moment.  There is no need to post in real time.
Show up for those already there. They are your peeps – your loyal fans and true community.
Where are you in your business building journey? You may be further along than you think. Take this quiz to find out. At the end, you'll have access to a free download to help you along. P.S. This is not a quiz where your result gets published to social media. It's for your eyes only :o)
Feel the pride and satisfaction of turning your passion into a profitable business. Become a member of the Makers MBA program and access valuable videos, worksheets, and guides and connect with a community of gift biz builders just like you. It's time to get moving on your dream. Get started today!
If you found value in this podcast, make sure to subscribe and leave a review in Apple Podcasts or Google Podcasts. That helps us spread the word to more makers just like you.
Thanks! Sue