017 – Working with Hollywood stars by Terry August of Fanciful
Listen to the Episode Below
Is your biz set up for success?
Take the Gift Biz Quiz to find out
Podcast: Play in new window | Download
Subscribe: Apple Podcasts | Android | RSS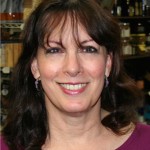 Terry started Fancifull back in 1987 from her dining room table. Today her business has grown into a famous fine food and gift shop on Melrose Avenue – just a 5 minute walk from Paramount Studios.
A look into the Fancifull shop reveals an array of fresh gourmet foods and wine to suit any taste. What sets them apart is the elite clientele they serve while still offering a comfortable and personable style. They maintain a gift site and send gifts daily for Sony Pictures. Conan O'Brien has been a client for years … as was Michael Jackson. They send gift baskets from other celebrities such as Jenifer Lopez, Charleze Theron and Director Tim Burton. During the recent Emmy's, they did a large basket for Lily Tomelin. This gives you a pretty good picture of her clientele.
All this sounds really exciting but she says "It's just part of working in Hollywood."
This is Part 1 of a 2 episode talk with Terry. Listen to Gift Biz Unwrapped Episode 018 for the rest of the interview where she continues with more incredible stories and advice.
Motivational Quote

Business Inspiration
The path towards Fancifull [6:30]
The bridal fair experience creates an idea [9:25]
Business Development
Terry's strategy in choosing a business name [8:50]
Zeroing in on the core business [10:10]
First gift basket done for Hollywood [12:43]
A Candle Flickering Moment
Learning the difference between sales and cost [15:00]
The 2008 Crash [16:14]
Business Insights
Defining the business – how she niched down for success [19:58]
Sending gifts to the current and past Presidents and the White House [24:12]
What from Terry's childhood helped to form Fancifull [26:02]
A heartwarming story about Terry's intuition – hear what happens! [26:38]

Contact Links
Website
Facebook
Twitter
Instagram
Did you find this valuable? If so I'd appreciate a review in iTunes and Stitcher.
Thanks! Sue