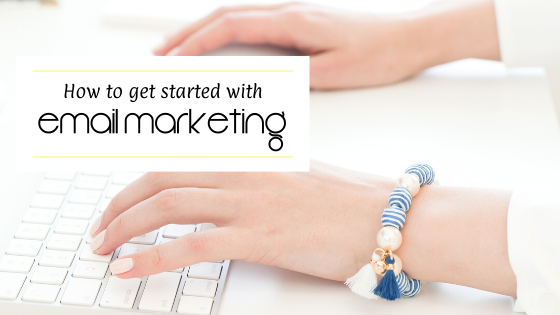 Email marketing is one of the best ways to stay top-of-mind with your past, current and potential customers. And refreshingly, it doesn't rely on algorithms or social media. It's your direct path to others' inboxes, which people are still accessing multiple times a day. (Raising my hand here!)
But beginning an email marketing program for your business can be intimidating when you don't know where to start.
How do you collect email addresses?
Which service should you use to send emails?
What do you even talk about … and how often?
So many questions!
It's one of those parts of business that you may be putting off because of the overwhelm. You know you should have an email strategy but it feels like way too much to tackle. So it gets pushed to another time again and again.
The best thing to do when you feel this way is just get started, keeping in mind that done is better than perfect.
Have a quality email provider
There are a wide range of email marketing service providers available and some are better than others. Many gifters, bakers, crafters and makers start with MailChimp or Constant Contact, both offer free services with some limitations.
Other more advanced options include ActiveCampaign, Drip, ConvertKit, AWeber and others. I recommend doing the research to find a provider that serves your needs – now and in the future. Some questions to ask as you do your research include:
Do I have multiple audiences included in my overall list that I'll want to segment? (You may want to send different messages based on age, whether they're already a customer, or some other variation.)
How often will I want to email my audience? (Some providers have a limit on the number of emails you can send based on the plan you purchase.)
How visual and customized do I need my emails to be? (Keep in mind that image-heavy emails are large file sizes, an indication to your subscribers' inbox that you're sending promotional emails. That means hello spam folder.)
What do I want the opt-in forms to look like on my website? (Some providers include their own branding on forms at different plan levels and others are hard to customize. There are also website plug-ins available to integrate your own forms.)
Do I need my email provider to integrate with other services such as Shopify? (Make sure that if the email provider you choose doesn't directly integrate, there's an automation through Zapier that can help.)
How tech-savvy am I? (Some email providers are very intuitive and easy to pick up while others will leave you scratching your head.)
Of course, I also recommend you talk to businesses similar to yours to see what they use and love. You may not know if your initial choice will work for you until after you've tried it out. Look for a service that offers a 30-day free trial. If you don't see that option on their website, get in touch with them and ask!
Develop a strategy for attracting new subscribers
If you're investing in an email service, you'll want to attract new subscribers regularly so your list of prospects grows. That means you need a proactive way to collect email addresses from people who are interested in your products.
An easy way to collect email addresses is to require one when customers check out. Depending on where your online shop is hosted, this may or may not be possible. For example, Etsy requires an email address upon ordering, but the shop owner doesn't have access to that address (based on their service terms) to use directly.
Instead, you'll need to find your own avenue for attracting customers and prospects and encouraging them to give you their email address. Here are a few ways to do that.
Offer a discount. A pop-up on your website offering a percentage off a first time purchase in exchange for an email address is a really effective way to grow your list.
Deliver an insert. You have branded packaging for your customers. Take it a step further by including an insert that asks customers to visit your website and join your list for updates, new product information and promotions.
Create a freebie. Depending on what you offer, a downloadable freebie might attract new organic subscribers. For example, if you sell jewelry, you might offer a video on styling different types of jewelry with customers' existing wardrobe. If you sell coffee mugs, you might share the recipes of your favorite diy creamers. The idea here is to pique the interest of new audience members without requiring them to buy something yet.
Create an email strategy
You have your email service, you've started attracting new subscribers to your list. Now it's time to create a strategy that not only keeps them on your list but that also encourages them to buy.
Create a welcome sequence. Once someone joins your email list, you need to immediately welcome them and offer them some additional value. If they downloaded a freebie from you, follow up with them about that freebie to see if they used it and to offer additional tips and ideas. You should include more information about you, send them to some free content you have and eventually (several emails into the sequence) send them to other products and services you sell.
Nurture your list. Once the welcome sequence is over, you need to continue nurturing your email list. This doesn't mean sending them an email only when you have a sale or special running; it means continuing to send emails packed with value and support. If you're a T-shirt maker, share blog posts and social media links that relate to styling T-shirts, new trends and complementary products. If you're a baker, share content around party planning, storing baked goods or beverage pairings with different types of cakes. Local businesses can share information about what's going on around town that your audience would be interested in. These emails should be all about starting or continuing a conversation with your audience.
Provide customized email content. Not every piece of information is meant for every audience member. For example, if you make bath bombs that you exclusively sell at a local shop, you may not want to share about the local charity golf tournament unless you know that your customers are avid golfers. Instead, you can share information about the new bounce house rental shop to the customers who have purchased birthday party packages. You know they have children in the right age range for bounce houses, so they may be interested.
Do some added research
Email marketing is an important part of your overall marketing and visibility strategy, but it's not meant to be strictly a sales engine. I encourage you to listen to some episodes of Gift Biz Unwrapped that specifically focus on email marketing.
Katie Salmon [1] and I talk about how to get people to open your emails, how to write for email and why you need emails to nurture your potential customers.
Abby Herman [2] and I talk about why an email address is your direct connection to building a relationship with your customers, why you need to talk about the story behind your business and how many of your emails should be promotional vs. educational.
Megan Auman [3] and I discuss how to show off your products in email, what your call to action should look like in your emails and how to figure out the right way for you to do business.
The most important thing to remember about email marketing? To get started and keep at it, no matter how big or small your list is. The more consistently you show up and the more value you offer in each email, the more likely your subscribers will be to keep opening those emails and buy from you!


[4]