148 – Meet the Mad Soyentist with Julie Skaggs of Mad Soyentist Candles
Listen to the Episode Below
Podcast: Play in new window | Download
Subscribe: Apple Podcasts | Android | RSS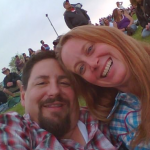 Episode 148 – It all began in January 2013 when the Soyentist, Derek, and his (then) 9 year old daughter, Erin, were looking for a craft project to work on together.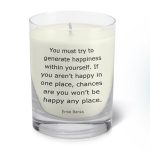 They settled on making candles. Starting with a kit from Hobby Lobby, they soon found that they really enjoyed making candles and loved discovering and creating new scents.
Being a high school science teacher, the Soyentist then researched types of soy wax, optimal wick thickness, scents, scent throws … and the experimenting began.
Encouraged by the early response, they decided it was time to start marketing their product.

The Lab Assoystant, Julie, (a middle school science teacher) developed the name and labels. She also started labeling jars, setting wicks, creating an inventory, and selecting their favorite scents.
The product debuted in May, 2013 and things really started hopping.
Mad Soyentist is a true family business. The three work together to create a product customers love.
The Mad Soyentist Story
It began one wintery afternoon. [4:13]
How they are different from other candle companies. [4:51]
The first attempt at making candles was not a pretty sight. [6:06]
Erin as a young girl had a business mind and heart. Hear about her first sale. [8:17]
Why Julie is using handmade labels. [14:37]
Their nerdiness is their brand. [16:10]
Candle Flickering Moments
Time – how this affects their life and how it's managed. [16:35]
Being a partnership and having differences of vision in several areas. [18:59]
An enlightening conversation and relevation. [21:13]
Business Building Insights
Name creation and the value of a memorable name. [10:10]
A chance encounter that led to wholesale business. [28:58]
Pricing for wholesale. [31:26]
Facebook Video Testimonials. [33:41]
Advice for newbies. [42:46]
Trade/Craft Show Specifics
How they attract people to the Mad Soyentist booth. [12:10]
Observations from years of show experience. [13:34]
Their craft show display. [27:16]
Advice for craft show success. [34:47]
How to decide which shows to attend. [37:11]
The Survival Kit. [44:13]
Valuable Resource
Google Docs – Create, edit, and collaborate with others on documents.
Quickbooks –  Manage accounting, get invoices paid on time, accept payments & much more.
Square – Secure credit card processing to point of sale solutions.
Contact Links
Gift Biz Resources
Where are you in your business building journey? You may be further along than you think. Take this quiz to find out. At the end, you'll have access to a free download to help you along. P.S. This is not a quiz where your result gets published to social media. It's for your eyes only :o)
Feel the pride and satisfaction of turning your passion into a profitable business. Become a member of the Gift Biz Builder program and access valuable videos, worksheets, and guides and connect with a community of gift biz builders just like you. It's time to get moving on your dream. Get started today!
If you found value in this podcast, make sure to subscribe and leave a review in Apple Podcasts or Google Podcasts. That helps us spread the word to more makers just like you.
Thanks! Sue