Maker To Master: Find and Fix What's Not Working in Your Small Business
Are you discouraged because your small business is not performing as you had envisioned?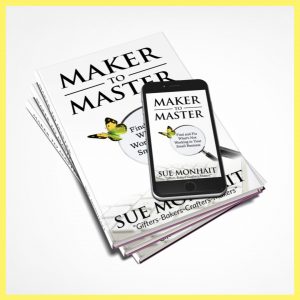 Are you stuck and confused about how to turn things around?
Do you tell people everything is wonderful when inside your stomach is churning because you know it isn't true?
This book will help you identify where the holes are in your business and show you EXACTLY how to fix them. You'll learn from owners just like you who are seeing real success, growing their companies and living their dream.
Think back to when you were so excited about starting your own business. Remember how you felt about getting your product out into the world and making money doing what you love. This was the plan to achieve a lifestyle of freedom and pride.
Let's get you back on track with that vision.
Who is this book for?
Maker To Master is specifically for "Gifters-Bakers-Crafters-Makers" addressing the unique challenges you face. It's time to re-ignite the passion you once had for your business.
Maker To Master gives you best practices and proven guidelines so you can:

Confirm your business is set up correctly to provide the FOUNDATION FOR GROWTH
Implement pricing strategies that BRING IN SALES and MAKE YOU MONEY
EFFORTLESSLY ATTRACT new customers every day
BALANCE the making of your product with the running of your business
Ensure your business STAYS OPEN in those vulnerable beginning years
(20% of new businesses fail in year one, 50% fail by year 5)
Don't continue spinning your wheels with little to no progress. Your answers are right here and, once discovered, can be surprisingly easy to implement.
Praise for Maker To Master
"This book is a small business roadmap for creative entrepreneurs. In each chapter, Sue highlights a specific business concept that she brings to life through real-life stories and application. You will discover new strategies that you can immediately apply to your business. Definitely a MUST READ!"
Kim Garst, CEO, KG Enterprises, Boom! Social
"Maker To Master will fast track creative business owners straight to success. Sue Monhait is a successful product entrepreneur and has worked with numerous other gifters, bakers, crafters and makers.
Sue's friendliness and enthusiasm shines through the pages and she is able to cover important business topics in an approachable and memorable way by weaving in her own stories and those of her clients.
I highly recommend this to any creative entrepreneur whether they are at the very beginning of their journey or are looking for fresh ideas for their current business."
Natalie Eckdahl, CEO, BizChix.com
"Maker To Master is a must-have book for every budding entrepreneur who wants to turn their hobby into a real business that makes real money. It's time to stop dreaming and start doing, or as I like to say, "Just Do It!" There are no more excuses because Sue shares what you need to know in order to achieve the success you've been yearning for."
Madalyn Sklar, Twitter Marketing Expert
"Sometimes it's hard to read books about business. We either feel the content and advice is not really applicable to us and we need to finangle the strategies to make them fit our business model, or we get overwhelmed with just how much we need to do. Or both.
This is NOT that book!
Sue Monhait does a MASTERFUL job of addressing the creative product makers market. Her book is not only easy to read and digest, but also helps the reader to understand she is not alone. That the frustrations and challenges she is facing have been faced – and overcome – by others, and that there is a clear step by step path to success! If you know your business has way more potential than your bank account is reflecting, then this book is for you.
Continue doing what you do best which is creating. Sue will show you how to get the business side of things running smooth and bring in the money to carry on."
Viveka von Rosen, CoFounder, Vengresco, #theLinkedInExpert
"Getting started on your entrepreneurial journey isn't easy and feeling stuck can become a common thing. To break through that, you need the right resources you can turn to for ideas, inspiration and motivation. Sue's book is filled with several stories that will do just that – so you can get back on the right path and make things happen!"
Kate Erickson, Creator, Engager, Implementer, Entrepreneurs On Fire
"If you are a creator and are stagnant or stuck and want to push forward and become the go to master at your craft, Sue's book, Maker To Master, helps you hone in on What's Not Working in your small biz and gives you the right strategies you need to fix them."
Sue B. Zimmerman, Founder, Susan B. Zimmerman Enterprise, #theinstagramexpert
You can also order Maker To Master on Amazon in softcover, ebook or Audible versions.