230 – How Deborah Gets in Front of Corporate Decision Makers with Deborah Wasylko of Baskets Galore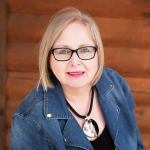 Deborah Wasylko is an entrepreneur, engineer, show host and author noted for her work in corporate sales and award-winning gift design at Baskets Galore.
Her personal credo is to create a life that she doesn't want to take a vacation from.
Deborah launched Baskets Galore in 2003 and has earned the "Top Corporate Gift Company of the Year" award three years in a row from Cleveland Business Connects magazine.
Her clients include Fortune 500 companies such as Sherwin Williams, Moen, Parker Hannifin, the Cleveland Indians, the Cleveland Cavaliers and National Public Radio.
She received a U.S. Patent for her unique 360 gift and packaging system. She also is the author of a new sales concept book called the Tasteful Break. The book is designed to give you all the tools and steps you need to grow the corporate side of your business.
The busy woman that she is, she find time to host a Saturday morning cable show called Business BEAT. Now in it's 200th episode.
Deborah lives by the ideal that kindness is never forgotten and coaches her team to execute to the highest standards – giving first while helping others succeed.
Business Building Insights
What you focus on expands. Expect great things to happen everyday.
Spend your life doing something you enjoy and provides a living salary.
It's by setting goals that you can make things happen.
Providing top service and making your clients' lives easier will win you the business.
You don't have to break the bank to do something that gets corporate attention.
To get an introduction into a large account, start with people you already know who have connections and can champion you.
Give your clients something that they can't get anywhere but from you.
Contact Links
Gift Biz Resources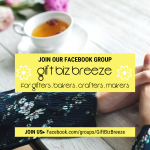 If you found value in this podcast, make sure to subscribe and leave a review in Apple Podcasts or Google Podcasts. That helps us spread the word to more makers just like you.
Thanks! Sue