059 – Creating the Bowdabra with Sandy Sandler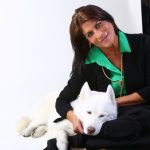 Sandy Sandler is a marketing expert and the creator of the worldwide bestselling product, the Bowdabra.
The Bowdabra is a crafting tool that helps people make professional, hand-tied bows. Her products and supplies are designed to transform the creatively-challenged into creative pros.
In Sandy's own words,
"The best way to be successful in business is to remain persistent, be unique, explore new markets, expand your network and perhaps, most importantly, never give up. If you're willing to do what others are not, you're that much closer to achieving your goal."
Motivational Quote
Business Inspiration
How the idea of the Bowdabra was born [4:36]
An original way of describing the Bowdabra [7:09]
Candle Flickering Moments
The Michaels Crafts and KMart offers [9:44]
Business Building Insight
Getting visibility for her product at trade shows in a unique way [7:51]
A major breakthrough when she went international [11:04]
All about her QVC experience [14:46]
Increasing your opportunities through product extensions [18:36]
Patent discussion and some interesting advice "Knock yourself off!" [20:04]
Success Trait
Persistence has served Sandy well. She says she will make things happen by going with her gut but then doing research to back up her decision before taking action.
Productivity/Lifestyle Tool
Sandy goes on long walks with her dog, Vivee to catch up on podcasts and audiobooks. She believes you should never stop learning.
Valuable Book
Think and Grow Rich by Napoleon Hill
Crafters4Kids
Crafter's 4 Kid's helps families and other non-profit organizations with craft projects through simple instructions delivered digitally. Parents who feel creatively challenged, the craft projects provided here will help you and provide a fun inexpensive way to spend time with your child.
Contact Links
If you found value in this podcast, make sure to subscribe and leave a review in Apple Podcasts or Google Podcasts. That helps us spread the word to more makers just like you. Thanks! Sue