186 – Bake the Cookies, Spin the Dreidel, Capture Those Holiday Sales!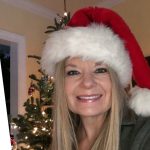 It's fourth quarter and you know what that means. There is magic in the retail air. Credit cards are being swiped and Apple pay is in full swing. You want a piece of this holiday sales action, don't you?
I know you said, "yes."
If you're really serious, what are you doing differently right now than during the rest of the year? What have you put in place to turn on the holiday cheer and light up your holiday sales?
You see, if you only do the things you always do all year, your sales will be okay but not lighting up the bank account. Let's kick that black coal to the side of the road and hang some glistening tinsel so you capture your joyful share of the holiday sales cheer.
It's lining up to be a great year for gifting sales. Make sure your pile of presents are stacked high.
Okay, enough of the holiday metaphors, but it's okay to be a little glittery. It's the holiday season!
Business Building Insights
You have to take action and do things differently to magnify your 4th quarter sales
There are 3 categories where you can affect sales: Visibility, Promotions and Price
People are opening their wallets and set to spend money. It's your opportunity to show why they should be spending it with you.
You don't have to sell holiday-themed products to make your offerings look festive.
Point out what service or purpose your product offers for the holidays.
Don't forget about your customer who is buying gifts for others. Do you have something for them too?
Holiday promotion is not all about cutting your prices.
Resources Mentioned
Contact Links
Website | Facebook | Instagram | Gift Biz Resources

---
Join Our FREE Gift Biz Breeze Facebook Community
Become a Member of Gift Biz Breeze
If you found value in this podcast, make sure to subscribe so you automatically get the next episode downloaded for your convenience. Click on your preferred platform below to get started.
Also, if you'd like to do me a huge favor- please leave a review. It helps other creators like you find the show and build their business too.  You can do so right here: Rate This Podcast
Apple Podcasts | Google Podcasts | Spotify
Thank you so much! Sue
Know someone who needs to hear this episode?
Click a button below to share it!