300 – How to Get 100,000 Qualified Facebook Fans with David Emmons of Artist Marketing Formula
If you've struggled to build your online audience, today's show is for you. My guest today shares his best tips for how to get Facebook followers for your small business and build an engaged audience of true fans.
He is the owner of Artist Marketing Formula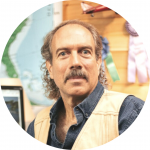 , a company that supports artists and other small specialty business owners.
David spent years going to art fairs selling his copper and stained glass sculptures. That is, up until a few years ago when he researched how to successfully and consistently sell his work online.
He now teaches others how to do the same.
David shows them how to utilize the power of the internet and social media marketing to sell online and also set up a sustainable online future.
BUSINESS BUILDING INSIGHTS
Understand the fan/artist relationship – why people buy, why they collect, why they connect to your personality and come back to you.
Connecting with people online provides opportunities to build relationships.
Getting brand exposure is valuable.
Artisans and specialty small business owners are in a very unique position to massively thrive online because we, by nature, connect with our customers.
How to Get Qualified Facebook Followers
When you go online, don't fall into the marketing trap and lose your human connection. Be the same person you are in your booth. That's the person you fans connect with.
Think about what your ideal customers love about your products and focus on that. <– A really great conversation about what this means and how to do it!
It's always about your customer. Read customer reviews and you will know what you need to talk about and show.
Ask yourself, 'what's in it for them?' and use that language to attract your people. This is how you inspire shoppers to envision your products in their lives. <– Tons more detail on this!
Look at high-end magazines and how they photograph products. That's how your online photos should look.
Social proof isn't just a bunch of likes or reviews. It's the actual words and emotions people use when describing your work and their interactions with you.
Involve and connect with your customers by asking them to share photos of them using your products.
Building relationships online can far surpass what you would get at shows. Your online fans will interact with you every day and every week. Encourage and let those relationships flourish.
Technical tips:

Social media was created to let people interact with who they want to interact with. So Facebook is actually built to give you more reach than big brands. When you understand how the algorithm works and what it wants, that's when your reach will explode.
Learn how to use tools together (ex: Facebook live + virtual show)
Target your marketing on the 1 or 2% who are your people.
Drive traffic to your virtual show through Facebook Live and Email blast.
You can use ads manager and spend a dollar a day for a targeted campaign to your people.
Layer your FB targeting to find your people and be smart about what you put in front of them.
Don't focus on getting a big number of followers. Focus on getting the RIGHT followers.
The budget and engagement level of the post determines its reach.
When you build the right things into an ad you're going to get engagement through the roof.
Allow yourself to spend $1 a day on targeting your ideal customer using FB ads (not post boosts).
To clarify – you don't want to layer more and more categories to find a bigger audience. Instead, filter down to get exactly your right people seeing your ads. Use the "also must match" function.
Surface-level doesn't cut it. You have to get really targeted to see results.
You don't have to do a lot of things – you just need to do the right things.

Tune in to the full episode for so many amazing tips to build a loyal, engaged following online!
Resources Mentioned
David's Contact Links
---
Join Our FREE Gift Biz Breeze Facebook Community
Become a Member of Gift Biz Breeze
If you found value in this podcast, make sure to subscribe so you automatically get the next episode downloaded for your convenience. Click on your preferred platform below to get started.
Also, if you'd like to do me a huge favor – please leave a review. It helps other creators like you find the show and build their businesses too. You can do so right here: Rate This Podcast
Apple Podcasts | Google Podcasts | Spotify
Thank you so much! Sue
Know someone who needs to hear this episode?
Click a button below to share it!