405 – How to Increase Customer Retention with Kerri McDonald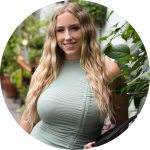 Here's possibly the most important thing you can do to grow your business.
Learn how to retain customers who have already purchased from you so they buy again. 
Of course, some customers will drop off, month to month, or be one-time purchasers.
But the strategy you'll hear about today can STOP that constant search for new customers every month! 
Kerri dove head-first into e-commerce over four years ago, driving her first brand to eight-figure status as Director of Marketing in less than three years.
Ready for a new challenge, Kerri co-founded The Greenhouse with her partner in 2020. Centered on e-commerce, email, and SMS marketing, The Greenhouse has quickly grown into an agency where clients take root and flourish, generating over $10 million in revenue for its brands in the first year.
When not growing brands, Kerri inspires others by sharing her own multifaceted story. From major career changes, and rebounding from a business failure to co-found a thriving business, Kerri helps others craft a fulfilling, unique path in life that defies limits.
How To Increase Customer Retention
The mindset you need for marketing your business.
Why retaining as many customers as possible is so powerful.
How to understand your customers and the type of problems you help them solve.
Specific steps you can take to get started from scratch – no matter how small your biz!
The best tools for customer retention.
And lots more!
Tune in now to hear how you can build sustainable growth in your business with simple customer retention techniques!
Resources Mentioned
Kerri's Contact Links
Website |  Instagram | LinkedIn
Join Our FREE Gift Biz Breeze Facebook Community
Become a Member of Gift Biz Breeze
If you found value in this podcast, make sure to subscribe so you automatically get the next episode downloaded for your convenience. Click on your preferred platform below to get started.
Also, if you'd like to do me a huge favor – please leave a review. It helps other creators like you find the show and build their businesses too. You can do so right here: Rate This Podcast
Apple Podcasts | Google Podcasts | Spotify
Thank you so much! Sue
Know someone who needs to hear this episode?
Click a button below to share it!