194 – 'Twas the Night Before Christmas When All Through the Store …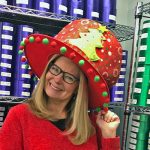 Merry Christmas!
'Twas the night before Christmas, when all through the store,
employees were anxiously watching the door.
Products sat neatly on the shelves with care,
in hopes that a customer soon would be there.
The shopkeeper was nestled all snug in her chair,
while she envisioned wrapping up gifts with flair.
The products were perfect and the prices were right,
but would they all still be there when she locked up for the night?
In Amanda's mind there arose such a clatter,
"Nobody's coming in. What is the matter?
People must not like the things that I make.
I should have known this business was a mistake."
Glancing out the window seeing new-fallen snow,
she watched shoppers bustling to and fro.
When what to her wondering eyes did appear,
but a miniature sleigh and eight tiny reindeer.
With a little old driver, so lively and quick,
she knew in a moment it must be St. Nick.
Not down the chimney, but right through the door.
He exclaimed, "Ho, ho, ho, let's fix up this store."
"Look at the colors, the quality, the style!
We must spread word of your wares across miles!"
"Why didn't you tell people of the products you make?"
"I was scared that they would think me a fake!"
"Your talent is clear and creations unique
with artistry and style that so many seek."
"Now Dasher! Now Dancer!
Now, Prancer and Vixen!
On, Comet! On, Cupid!
On, Donner and Blitzen!
To the top of the hillside!
All residents must know!
Of Amanda's treasures all boxed up and bowed!"
And then, in a twinkling, she heard on the roof,
the prancing and pawing of each little hoof.
Up up and away the reindeer all flew,
with a message of holiday gifts shiny and new.
Within minutes it happened, the door flew open wide.
A snowy rush of air blew customers inside.
Excitement built up as they discovered the wares.
One, five, seven gifts were purchased with care.
Was it seconds or minutes that the gifts were all sold?
Customers smiled while juggling packages of red, green and gold.
"Which designs did you get? Oh, I loved that one too!
I need to come back and get another in blue."
Amanda's eyes twinkled! She felt light-hearted and merry!
People loved her creations – even that shade of raspberry.
St. Nick's cheeks were like roses, his eyes held a twinkle,
"Success was right in front of you, except for one little wrinkle."
"You can't stay inside and be timid or meek,
if growing your business is something you seek.
Your artistry is spectacular, it's much more than fine.
Be proud. Be confident. It gets easier in time."
As the clock chimed the hour and the day was now through,
Amanda sat in amazement of what she now knew.
Trusting her skill and being herself,
creates a gift of its own, like a personal elf.
Customers will appear as they're meant to be,
The right ones for her who would help her succeed.
St. Nick's eyes gave a twinkle and with a little round belly,
he laughed at the acknowledgement, like a bowl full of jelly.
He spoke no more words, but went straight to his work,
and filled all the stockings, then turned with a jerk.
"Your presents this year are reminders for you,
of the dreams you've created that you can make true."
She knew what he meant and on his cheek gave a kiss,
his message was clear and no point was missed.
Inside she felt courage and anticipation,
nothing would stop her now from creation.
He sprang to the roof and jumped into the sleigh.
He'd given Amanda a priceless gift this day.
And she heard him exclaim, as he drove out of sight,
"Merry Christmas to all, and to all a good night!"
Business Building Insights
Gift Biz Resources
If you found value in this podcast, make sure to subscribe and leave a review in Apple Podcasts or Google Podcasts. That helps us spread the word to more makers just like you.
Thanks! Sue