228 – Seriously – Take the Scary Out of Sales with Nikki Rausch and The Selling Staircase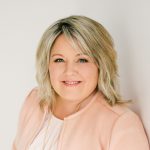 CEO of "Sales Maven," an organization dedicated to authentic selling, Nikki Rausch has the unique ability to transform the misunderstood process of "selling."
Today, entrepreneurs and small business owners from a wide range of disciplines hire Nikki to show them how to sell successfully and authentically, without being pushy or "salesy."
Nikki has just launched her third book: The Selling Staircase: Mastering the Art of Relationship Selling which is available in print, ebook and as an audiobook. Her books are available on Amazon and where most books are sold.
Business Building Insights
When real conversations happen, real connections happen. That's why it's so important to focus on building relationships. That's where The Selling Staircase comes in.
Raise your credibility by being the person people want to engage in conversation.
Make it easy for people to remember your name by telling a story of some other "memory clue."
Be completely yourself and don't try to mimic someone else. Let people see all those things that make you unique and special.
Selling is a process that leads from one position to another and it's really important not to skip any of the steps.
Create curiosity so that people want to learn more about you. This is a way to gauge the true interest level of the person you're talking to.
Invite people to do business with you as you progress up the selling staircase.
Resources Mentioned
The Selling Staircase by Nikki Rausch
Gift Biz Unwrapped Episode 160 – Hello Corporate Business 
Contact Links
Gift Biz Resources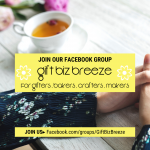 If you found value in this podcast, make sure to subscribe and leave a review in Apple Podcasts or Google Podcasts. That helps us spread the word to more makers just like you.
Thanks! Sue