312 – Why Do You Hold Yourself Back? with Petia Kolibova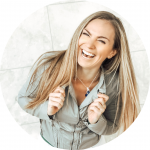 Petia is a transformation coach who helps women who have been pushed down and have been playing small create a life that is true to them and their soul purpose.
Her mission is to help women who are on the path to healing from toxic relationships or unhealed childhood trauma move through their limiting beliefs and internal blocks so they can finally take action on what they want to do and what feels good to them.
Petia pairs feminine flow with strategic planning to give entrepreneurs immense clarity and the exact steps to transition from side-hustler to CEO.
If she's not interviewing on her podcast Unapologetically Abundant, working out, or reading, you'll find her in nature disconnecting from the world and connecting to herself.
BUSINESS BUILDING INSIGHTS
No matter what kind of business you have, you are your business. You're the one who will create a product or be the leader in your business. It all starts with you.
Build a business based on your core values. When you have your core values backing you up, you feel stronger and more courageous.
Know who you truly are so you can attract people and opportunities that are alike.  Become the magnet for people and things that align with you.
Surround yourself with people who really light you up and make you feel alive.
How to Stop Holding Yourself Back
The foundational idea that you must wrap yourself around is that you're perfectly made for your purpose.
Embrace that you're perfectly made for your purpose and you're perfectly made for your clients. People will be attracted to you and your story.
It's really all about seeing yourself as worthy and perfect for what you came here to do.
Look at your ultimate desire, what do you really want in your life for yourself?
Take it one step at a time. that's how all these changes happen, gradually.
It's really about acknowledging where you are now, and asking yourself, what is the best next step? There are things you can do daily that will make you feel better. And when you feel better, you attract better, you're more confident, and you're more courageous. People will notice your energy and you become magnetic for your clients.
Take inspired action steps and inspired risks.
How you treat yourself is reflected in all the relationships around you.
When you feel inspired and empowered in your life, your results will be aligned with who you are.
No one else can do it like you. There are customers waiting just for you.
If you don't do the things you really want to do like creating products and being creative, you are actually hurting other people. Because there are people who need and want your products.
Tune in to the full conversation for so much more on how to create the life and business you want!
Resources Mentioned
Petia's Contact Links
Website | Facebook | Instagram
---
Join Our FREE Gift Biz Breeze Facebook Community
Become a Member of Gift Biz Breeze
If you found value in this podcast, make sure to subscribe so you automatically get the next episode downloaded for your convenience. Click on your preferred platform below to get started.
Also, if you'd like to do me a huge favor – please leave a review. It helps other creators like you find the show and build their businesses too. You can do so right here: Rate This Podcast
Apple Podcasts | Google Podcasts | Spotify
Thank you so much! Sue
Know someone who needs to hear this episode?
Click a button below to share it!