158 – Live Streaming: How and Why with Aaron Roth of Arkon Mounts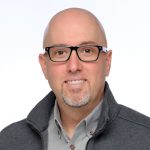 Aaron Roth is the inspirational Vice President of Sales and Marketing and co-owner at Arkon Mounts, the most recognized and respected brand in the live streaming video category.
In addition to being a regular speaker at live streaming and social media events, you'll also find Aaron broadcasting daily on Facebook, Instagram Live and Periscope from the Arkon Live Lounge, an office studio at the Arkon headquarters in Arcadia, California.
Arkon celebrates its 30th year in business in 2018. They carry an extensive assortment of mounts, holders, stands, and tripods to support your live streaming video broadcasts.
The Start of Arkon Mounts
Aaron joined Arkon Mounts in 2000. Back then they were manufacturing mounts for cars.
In 2015 they took on a new dimension with live streaming and Aaron saw it as a wonderful tool to be able to connect with people and to promote their products in a new way. Aaron also saw an opportunity to tap into new communities such as the bakers and the crafters.
Live streaming has helped them stand out from the thousands of other sellers in the mounting category.
Business Building Insights
It's all about community and being able to give back and help empower people.
In terms of marketing and getting a return on time investment, Facebook and Instagram are currently the best two platforms for live streaming.
You have to do something different to stand out from the crowd.
The best way to sell products is to have others sell it for you.
Join Facebook groups that are relevant to your product or service to get visibility.
Once you've joined a group, show up and add value to the discussion – don't sell!
Aaron's key strategy: promote others to promote yourself.
Push the live button! It's scary but just do it!
Resources Mentioned
Switcher Studio – mobile live video creation platform that enables content creators to easily create Facebook Live and Youtube.
Get 20% off Arkon Mounts code GiftBiz
Pro Stand for Baking and Crafting – Use discount code GiftBiz for 20% off
Live Stream Starter Package – Use discount code GiftBiz for 20% off
Contact Links
Gift Biz Resources
If you found value in this podcast, make sure to subscribe and leave a review in Apple Podcasts or Google Podcasts. That helps us spread the word to more makers just like you.
Thanks! Sue