183 – How a Single Moment Turns into a Business with Kristy Mangia of Giddy Up Nuts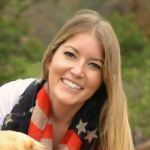 Kristy Mangia started Giddy Up Nuts as a way to escape "the crazy" of everyday life. Today she feels lucky because it has become her everyday life!
Giddy Up Nuts was born about 5 years ago in her dad's kitchen. They started selling at the local farmers market and then took on distributing to gourmet and specialty food stores from there.
Kristy says that now more than ever it's important to know where your food is coming from and to have a connection to what you're eating.
Giddy Up Nuts is all natural, uses local ingredients whenever possible and tastes delicious too! Kristy's mission is to create something unique and delicious that people can also feel good about eating.
Business Building Insights
Never stop pushing yourself or exploring.
Deal with self doubt by reminding yourself everyday that you're doing it already.
Have a fierce tenacity to turn down the noise around you and follow whatever is pulling you.
The closest people around you can be your first test group.
Start small and start humbly but always listen to what's driving you.
It's important to have a solid product and to have a value proposition.
Be good at rejection. Not everyone will say yes to you.
Take feedback gracefully.
Look at everything as a learning experience and a lesson.
Stay true to yourself and trust what you're doing.
There is no shame in slow and steady growth.
Business is full of competition. Find out how you're going to differentiate yourself.
Resources Mentioned
Quickbooks – accounting software
Contact Links
Gift Biz Resources
Learn to make money doing what you love. You're a gifter, baker, crafter, or maker … and you're stuck in a day job. You'd love to turn your one-of-a-kind jewelry or heavenly chocolate into a profitable business, but you have no idea where to start. How the heck do people turn their creative business dreams into reality?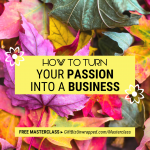 Learn the ONE thing that will take you from 'hobbyist' to 'pro' in no time
Discover the 5 crucial steps to give your business a solid foundation and set you up for massive growth
Find out how to be 2 steps ahead in your business so that your customer starts chasing you!
It's time to get out of your rut and dive into your future headfirst! Stop wondering about your next steps — instead, pour yourself something delicious, sit down, and let me show you how to turn your hobby into a money-making business.
If you found value in this podcast, make sure to subscribe and leave a review in Apple Podcasts or Google Podcasts. That helps us spread the word to more makers just like you.
Thanks! Sue