297 – Experience a Holiday Story and Peek into the Life of Bestselling Author Heidi Swain
Get into the holiday spirit with today's light-hearted episode. Enjoy a reading from a special holiday story by Heidi Swain (revolving around a small-town craft market), who also shares her journey to becoming a best-selling author.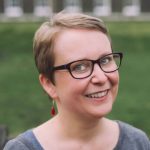 Although passionate about writing from an early age, Heidi acquired a degree in literature, flirted briefly with a newspaper career, married, and had two children before she plucked up the courage to join a creative writing class and take her literary ambitions seriously.
A lover of vintage paraphernalia and the odd bottle of fizz, she now writes feel-good fiction with heart for Simon and Schuster.
Her debut novel, The Cherry Tree Café was published in July 2015 and since then she has had a further ten books published, becoming a Sunday Times Bestseller in 2017.
Heidi is currently celebrating the release of her 2020 festive title, The Winter Garden.
Listen now to hear Heidi's reading from her holiday story, Mince Pies And Mistletoe At The Christmas Market (in her charming British accent).
May you enjoy beautiful, peaceful, and memorable holidays this year.
BUSINESS BUILDING INSIGHTS
Be present. Sometimes we miss opportunities because we look too far ahead and miss the here and now.
Whatever you dream of doing, don't until 'the time is right.' Make a start now. Otherwise, you're never going to do it.
For writers, always end the day knowing what to write the next day. Planning can help you be productive.
Find someone to bounce ideas off. Talking it out can help you uncover solutions. <– Lots more tips for writers. Tune in to get them all!
Don't forget to enjoy life every day. Live in the moment and get the most out of each and every day.
Do it scared. Don't let fear stop you!
Listen to the full conversation for more insights about following your dreams!
Resources Mentioned
Reminder: the Holiday Vendor Village is open for shopping until 12/31. Some shops are updated with products for the New Year.
Heidi's Contact Links
Website | Facebook | Instagram | Twitter
---
Join Our FREE Gift Biz Breeze Facebook Community
Become a Member of Gift Biz Breeze
If you found value in this podcast, make sure to subscribe so you automatically get the next episode downloaded for your convenience. Click on your preferred platform below to get started.
Also, if you'd like to do me a huge favor – please leave a review. It helps other creators like you find the show and build their businesses too. You can do so right here: Rate This Podcast
Apple Podcasts | Google Podcasts | Spotify
Thank you so much! Sue
Know someone who needs to hear this episode?
Click a button below to share it!