159 – All Paws Up for Non-Profit Creation with Carole Yuster of K-9 Reading Buddies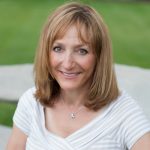 Carole is the Executive Director & Founder of K-9 Reading Buddies of the North Shore.
This is a non-profit business that supplements literacy programs in suburban libraries and schools.
They use reading teams consisting of registered therapy dogs and qualified handlers to strengthen reading skills while also boosting confidence of the young readers.
The Start of K-9 Reading Buddies
The concept behind K-9 Reading Buddies of the North Shore started back in 2007 around a Starbucks coffee table. A group of five had the idea of bringing therapy dogs into schools to support literacy programs and to motivate the children to want to read. As they put their plan in place, more and more people wanted to contribute to the cause. This is what prompted Carole to formally start her non-profit now known as K-9 Reading Buddies. The business has formalized the program and provides consistency and a professional structure to their worthwhile cause.
Candle Flickering Moments
When K-9 Reading Buddies was formed, all members received a letter that Therapy Dogs International would cancel their membership if they volunteer with any other nonprofit. Carole had to get creative to figure out a solution.
Another obstacle was a city ordinance that prohibited dogs from entering school property and public buildings. Carol could have met this challenge with defeat but instead, she tackled it head on and it's a good thing! There wouldn't be K-9 Reading Buddies today if she didn't challenge the ordinance and win.
Business Building Insights
Clearly understand the value your business brings. For Carole it was the effect therapy dogs have on the children: stress levels go down allowing calm focus and higher reading performance.
What we can learn from dogs: They are not thinking about yesterday and what they should have done. They are not thinking about their to do list today, they're in that very moment. If we can just be in that very moment, we can have less stress.
When you have an idea, don't immediately take NO for an answer. See if you can find a solution.
When working with a group, treat them collaboratively and work towards the same goal.
Always share an idea. You never know where it may lead!
When what you do is your passion, it is with you 24/7. But there are times where you have to turn off because we are not machines.
Believe in yourself and believe in your mission. If you do, nothing will stop you.
Contact Links
Gift Biz Resources
If you found value in this podcast, make sure to subscribe and leave a review in Apple Podcasts or Google Podcasts. That helps us spread the word to more makers just like you.
Thanks! Sue