072 – Being on Project Runway with Marla Duran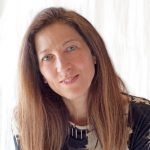 Marla is the owner of Marla Duran, her own clothing line of the same name.
She started making clothes when her son was an infant. She was living in LA at the time and sold pieces to local children's boutiques.
In 1981 she moved back east and she started selling children's designs to boutiques throughout Philadelphia. Based on this favorable reaction and sales success, her line evolved into women's wear as well.
She opened her own boutique and design studio in 2001. Today, Marla is producing and selling her designs to women around the country through boutiques and craft shows.
One of her most memorable experiences was as a contestant on Bravo TV's Project Runway.
Business Inspiration
From the love of handmade ceramics to the love of clothing design [3:53]
Street vending sparked the entrepreneural spirit [5:53]
Candle Flickering Moments
Overcoming the obstacle of how to turn ideas into reality [26:48]
The Project Runway Experience
How the experience began [7:44]
How it happened [9:01]
Reflections on the interview process [13:07]
Business Building Insights
The decision to add retail to her design studio [16:19]
The value of doing craft shows [19:03]
Tips for success at a craft show [22:57]
Two surprising observations for attracting customer [24:34]
Success Trait
Marla is outgoing and enjoys being around people. She is also not afraid of hard work and calls herself tenacious. [26:16]
Productivity/Lifestyle Tool
TripIt – Organize your travel plans in one place.
Valuable Book
A Fine Balance by Rohinton Mistry

Contact Links
Website (currently being updated)
If you found value in this podcast, make sure to subscribe and leave a review in Apple Podcasts or Google Podcasts. That helps us spread the word to more makers just like you. Thanks! Sue