Tips & Talk 28 – Let's Talk About Revenue Generating Tasks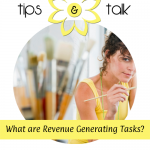 Not all tasks are created equal. As you know, it's easy to get distracted and without even knowing it, go down the social media rabbit hole – or any other number of daily activity "fillers" that don't produce results.
Today I'm going to define and give examples of revenue producing tasks. We'll talk about why they're important and how to ensure you do some of these every day. It's in this way your energy and time spent in your business will bring in new customers and sales.
Join my FREE Gift Biz Breeze FB Community where you'll have the chance to learn and hang out with other inspirational makers just like you.
If you found value in this podcast, make sure to subscribe so you automatically get the next episode downloaded for your convenience. Click on your preferred platform below to get started.
Also, if you'd like to do me a huge favor – please leave a review. It helps other creators like you find the show and build their businesses too. You can do so right here: Rate This Podcast
Apple Podcasts | Google Podcasts | Spotify
Thank you so much! Sue
Know someone who needs to hear this episode?
Click a button below to share it!