146 – Should You Purchase That Online Course?
Listen to the Episode Below
Podcast: Play in new window | Download
Subscribe: Apple Podcasts | Android | RSS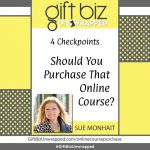 Episode 146 – The beginning of the year is a good time to reflect back on what happened last year and what types of things you want to do differently in your business this year.
One of those, I am hoping, is investing in yourself and in the growth of your business.  That is why I wanted to bring up the topic of today which is how to decide if you should take an online course.
There are so many different choices out there. How do you decide?
It's a lot more difficult when people are online because they aren't right in front of you.  You might have less of a connection and recently discovered them.  How do you make sure you're not throwing money away with your online course selection?
Is it worth laying out that hard earned cash in hopes of getting the result you're looking for?
Over the course of my professional career, I've taken my share of courses. I've gotten wiser and more analytical when I'm trying to decide if a program is one that I want to invest my time and money in.
I've created an evaluation system I run through every time I'm considering an online course. Let me share it with you.
Should You Invest in That Online Course?
Check #1
Does it fit with what you need to know now? [3:56]
Online marketers use a strategy called scarcity. [5:33]
Someday but not today. Filter things that you're doing. [6:29]
Check #2
How qualified is the person who put together and is teaching the course? [7:25]
The instructor is the creator of the course, captured all the information. [7:37]
The instructor actually lived and learned what they're teaching. [8:41]
Beware of scammers! [10:01]
Make a choice through evaluation, intuition, research and knowledge. [10:58]
Check #3
CAUTION! Do not equate number of social media followers with credibility of their stated qualification. [11:27]
There is the ability to buy followers out there. [12:06]
A little bit of research: Look at their website. [12:27]
Check #4
What is the style of the presentation? [13:10]
Review of the four checkpoints. [14:53]
Where are you in your business building journey? You may be further along than you think. Take this quiz to find out. At the end, you'll have access to a free download to help you along. P.S. This is not a quiz where your result gets published to social media. It's for your eyes only :o)
Feel the pride and satisfaction of turning your passion into a profitable business. Become a member of the Gift Biz Builder program and access valuable videos, worksheets, and guides and connect with a community of gift biz builders just like you. It's time to get moving on your dream. Get started today!
If you found value in this podcast, make sure to subscribe and leave a review in Apple Podcasts or Google Podcasts. That helps us spread the word to more makers just like you.
Thanks! Sue