145 – How to Land Corporate Business with Maria Bayer of Irresistible Selling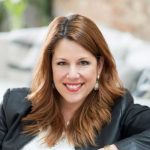 Maria Bayer is the creator of "Irresistible Selling" – an online group coaching program she designed to help creative entrepreneurs book higher-paying clients, grow their business and design a life they love.
She teaches the authentic selling and mindset strategies that helped her tripled her income in less than a year, and go on to book over $25 Million in sales from companies like Target, Best Buy, Ulta, Office Max and Hyatt.
Maria is a national speaker, and has authored and co-authored several Kindle books.
She resides in the Chicago area with her husband Tim and fur-baby Gia, usually with a cold brew in hand.
Maria Bayer's Story
How Maria's career in sales began. [4:31]
The manager who cultivated her natural talent and mindset. [6:19]
Successful Sales Insights
The sales approach of advocate and consultant. [8:11]
It starts with building trust. [11:02]
Consistency and fulfilling expectations is key. [13:26]
The value of just being yourself. [14:49]
The parallels of sales and dating. [15:20]
What to do when you hear "No." [28:03]
What to do if you are uncomfortable asking questions. [31:57]
Corporate Selling
The first contact with a potential customer. [17:15]
It's important to have a sales process. [19:45]
Framing the meeting. [23:29]
A breakdown of what should be included in the process. [24:02]
How to stand out from other vendors. [26:11]
Valuable Resource
Acquity – Online appointment scheduling software. Clients schedule appointments, pay, and complete intake forms online 24/7. [34:00]
Contact Links
FB Group – Learn Collaborate Flourish

If you found value in this podcast, make sure to subscribe and leave a review in Apple Podcasts or Google Podcasts. That helps us spread the word to more makers just like you.
Thanks! Sue