Bats and a bridge created a biz by RC Clark of Dancing Snake Nature Photography
Listen to the Episode Below
Is your biz set up for success?
Take the Gift Biz Quiz to find out
Podcast: Play in new window | Download
Subscribe: Apple Podcasts | Android | RSS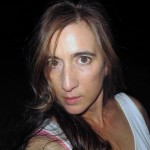 Episode 016 – With the lens trained on everything from sunsets to spiders, R.C. Clark captures the striking beauty of the Southwest with a passion for the wildlife and natural vistas of the Arizona Sonoran Desert. Viewing her photography you can take a journey through the surreal to the downright creepy, through cactus blooms to venomous fangs … and everything in between.
R.C. is a nationally published photographer with pictures featured in upcoming books by Marty Crump and Harvey Pough. She will also be teaching her first photography workshop for the Turtle and Tortoise Survival Alliance which hosts the largest gathering of Turtle and Tortoise experts in the world in Tucson on August 6th, 2015.
Motivational Quote

Business Inspiration
Hear this fateful story about what happened when she went out on a whim to take pictures of bats under a bridge. [4:01]
A Candle Flickering Moment
Dealing with the legal paperwork side of the business led her to seek outside help. [10:09]
Skeptics have no place in R.C.'s business plan. [ 11:03]
A trade show exhibitor trick [12:46]
Business Insight
Think again before refusing to donate an item to a silent auction. [14:01]
Success Trait
R.C. has an outgoing nature, feels comfortable approaching people and does not fear rejection. [17:54]
Productivity/Lifestyle Tool
Social Media – hear how she sells off of Facebook. [20:29]
Valuable Book
Vertebrate Life by Harvey Pough
Additional Information
Photos referenced during the interview
Contact Links
If you found value in this podcast, make sure to subscribe and leave a review in Apple Podcasts or Google Podcasts. That helps us spread the word to more makers just like you. Thanks! Sue