255 – Ever Consider Teaching Your Creative Skills as an Additional Revenue Stream? with Deirdre Drakes of 823 Treats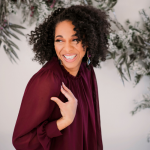 Deirdre "Dee" is a true southern girl born and raised in the small town of Enfield, North Carolina. In 2005 she settled in Charlotte, NC and has made it home.
She is a self-taught chocolate based treat maker, proud Army wife, and mom of two.
Dee's custom design edible creations have a long record of precise execution for large companies and customers alike. Her Who's Who client list includes NBA players, NFL players, government officials and celebrities.
Her highly sought after domestic and international classes, where she graciously teaches her techniques, sell out at the $350 and up price point, making her not only a gifted treat maker but a respected teacher.
Her work has been featured on VH1, Bravo, Fox46, and has been published in a national magazine.
BUSINESS BUILDING INSIGHTS
Always charge for your product – even when starting out. We're not working for free!
Use social media to increase your visibility. Hashtags are like little search engines. You want your business to come up when people search for certain words.
It's important to quantify your time. The time you spend making your products comes with a price to your customer.
Be a people person and find business opportunities through your network and personal contacts.
It's important to have a beautiful and visual website or social media account because people buy with their eyes.
Connect with your followers or potential customers through Stories in Instagram.
Focus on perfecting a few things first before adding new products in your store.
Teaching your craft may be a revenue generator for your business. Don't be afraid to share forward what you know.
RESOURCES MENTIONED
CONTACT LINKS
Join Our FREE Gift Biz Breeze Facebook Community
Become a Member of Gift Biz Breeze
If you found value in this podcast, make sure to subscribe so you automatically get the next episode downloaded for your convenience. Also, if you'd like to do me a huge favor, please leave a review. That helps other creators like you find the show and build their businesses too.
Thank so much! Sue