008 – How to Outsell the Big Chains with Anne Pazier of Santa Barbara Gift Baskets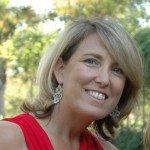 Anne Pazier is the owner of Santa Barbara Gift Baskets. They design unique gifts featuring the finest gourmet food, wine and craft beers from the Santa Barbara area. She specializes in designing custom corporate gifts that combine their client's branded or personal items with their local goodies to create memorable gifts that truly represent their brand, concept, or event. During the 10 years Anne has been in business, her journey has gone from being a home-based startup to purchasing a deli meant to compliment her gift business, selling that deli and most recently, opening a brand new retail location.
Anne serves on the Goleta Valley Chamber of Commerce Board of Directors and is also an Ambassador for the Chamber. She was recognized as the 2013 Goleta's Finest Entrepreneur of the Year and just last week she was honored with the Spirit of Entrepreneurship 2014.
Motivational Quote

Business Inspiration
Anne purchased holiday gifts for her company recognized the marginal quality and service provided by several large companies in the business. Her firefighter husband was the one who said suggested that she could do that … only better! [4:35]
A Candle Flickering Moment
A business opportunity took Anne's eye off of her gift basket business. In the end everything turned out but the lesson was clear. Keep focused on your core product.[13:05]
Success Trait
Anne as made her business parallel the growth stages and the goals she has for her children. Listen in to understand what that means and where she plans to take her business in the future. [25:27]
Productivity/Lifestyle Tool
Instagram – A fast, beautiful and fun way to share your life with friends and family
Valuable Book
A Gift from The Sea by Anne Morrow Lindbergh
Contact Links
Instagram is @sbgiftbaskets
If you found value in this podcast, make sure to subscribe and leave a review in Apple Podcasts or Google Podcasts. That helps us spread the word to more makers just like you. Thanks! Sue