007 – Dealing with Stress and Panic with Barbara Appelbaum of Appelbaum Wellness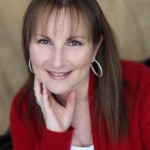 As a motivational speaker, published author, certified wellness coach and person living with MS, Barbara Appelbaum of Appelbaum Wellness is inspiring hope through mindful health and a meaningful life. By combining healthy living, spirituality, and neuroscience principles, she helps people understand how to be proactive in their health care versus reactionary in their sick care, so they can feel great in their body and in their life. Her greatest wish is to never hear a person say, "I should be taking better care of myself."
Barbara is a member of the National Speaker's Association, Barbara holds two master's degrees, and is a certified member of the International Coach Federation, International Association for Health Coaches and American Association of Drugless Practitioners. She is a Certified Wellness Coach and Certified Integrative Nutrition Health Coach. She is also a consultant to the National Multiple Sclerosis Society Wellness Initiative and an Ambassador for the National Multiple Sclerosis Society – Greater Illinois Chapter.
Barbara guest-lectures at Canyon Ranch in Tucson, AZ and is a regular contributor to Maria Shriver's blog.
Motivational Quote

A Candle Flickering Moment
What she thought was a heart attack ended up affecting her entire life. It was really MS and brought her on the path she travels today. [9:35]
Business Inspiration
A dinnertime family game turns into the theory behind her latest book. Listen in to hear about The Panic Game. [10:51]
Success Trait
Empathy for others. Barbara shares a very poignant message about how this applies to all relationships. [14:12]
Productivity/Lifestyle Tool
Post It Notes – Post-it® Notes are now available in more than 150 countries. Collectively, there are more than 4,000 Post-it® Products.
Microsoft Outlook – Outlook 2013 has a brand new look. It's cleaner. It's designed to help you focus on what's important with a clear view of email, calendars, and contacts. You'll be able to communicate more effectively by connecting efficiently with others.
Valuable Book
Live In Wellness Now by Barbara Appelbaum
10% Happier by Dan Harris
Other Resources Mentioned
Free Chakra Color Test [3:06]
Contact Links
If you found value in this podcast, make sure to subscribe and leave a review in Apple Podcasts or Google Podcasts. That helps us spread the word to more makers just like you. Thanks! Sue