316 – Baking Business Success from The Greatest Baker Finalist Roshell Ingraham
If you've ever dreamed of creating a baking business empire (or any empire, for that matter), this episode is for you.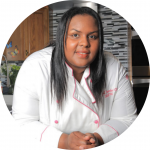 Today's guest is Roshell Ingraham. If you check her out on Instagram, right in her bio she starts with "It's Yo Girl Ro." And that pretty much sums up the spirit behind this powerhouse of a lady. The room lights up when she enters and her energy is contagious.
Roshell is a well-known and popular baker, pastry artist, and confectioner. She serves as Head Instructor and CEO of Your Sweet Connections, a company that serves other bakers with the knowledge and techniques to develop their own baking businesses.
She's been featured in American Cake Decorating Magazine, seen on Tasty, and was a quarter-finalist in the Greatest Baker competition.
BUSINESS BUILDING INSIGHTS
In order to grow, you have to step outside the box.
Do what you do because you love doing it and not just for the money. Just be great at it.
Be you. Be unique. You can be like nobody else.
You can monetize your gifts by teaching what you know.
Always be on your A game. You never know who is watching and will notice you.
Roshell's Road To Baking Business Success
Consider being a brand ambassador. It's a great way to increase your visibility and create a new income stream.
You can have your own product line. Find a manufacturer or supplier that will produce or create that is fitting for your brand and company.
Collaborate with other business owners who have similar products as you do. You can have a portion of your shop in their location or create something completely new together.
Every market is different. Do your research on what works for your own market.
Don't guess – find out what people are into when trying to create your products.
Tune in for lots more ideas on how to build your business!
Roshell's Contact Links
Website | Facebook | Instagram | YouTube
---
Join Our FREE Gift Biz Breeze Facebook Community
Become a Member of Gift Biz Breeze
If you found value in this podcast, make sure to subscribe so you automatically get the next episode downloaded for your convenience. Click on your preferred platform below to get started.
Also, if you'd like to do me a huge favor – please leave a review. It helps other creators like you find the show and build their businesses too. You can do so right here: Rate This Podcast
Apple Podcasts | Google Podcasts | Spotify
Thank you so much! Sue
Know someone who needs to hear this episode?
Click a button below to share it!