164 – Creating the Perfect Brand Story with Bri Lobato of MVMT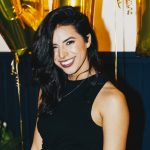 Bri is a visual storyteller for MVMT, a direct to consumer accessory brand that has disrupted the watch industry.
She is passionate about helping brands shape their aesthetic and use photos and video to showcase their product creatively.
In her real life Bri enjoys "art, yoga and time with dogs that aren't mine."
Bri's Journey to Finding Career Fulfillment
Bri has had a passion for the arts since she was a child. She continued to explore her creative side in college even though she didn't pursue an art related degree. When first job with a solar company didn't allow her to express her creativity either, she began to feel "like unwatered grass." That's when she knew she needed to make a change.
MVMT was founded in 2013 by two college dropouts as a direct to consumer business. With little funding for marketing, they started the "Join the MVMT" campaign. They asked everyone who bought a watch to post a picture with the hashtag #jointhemvmt. Doing so entered them into a drawing to win a $500 credit towards future purchases. In essence, they incentivized their consumer to create content for them.
Bri understood and saw the role photography and video can play in marketing and decided she wanted to be part of the MVMT team. Today, she's their content strategist working with photographers and videographers around the world.
Business Building Insights
Always follow your passion and if you're not happy somewhere, move.
If you're just starting out, a mood board can go a long way to define your asthetic.
See what your competitors are doing visually and make yours different.
Having content on hand allows you to pick and choose the best images, for the best opportunity, for the best channel.
Sending your mood board to someone who is going to take pictures for you gives them a clear understanding of what you're looking for.
Professional photoshoots: The more direction you can give ahead of time, the better. Knowing where these images are going to live and what composition you're looking for is good information for the photographer to know.
Use the same filter for your photos to keep cohesiveness with your social media feeds.
FB Live: As long as you're providing content that's interesting to your viewer, you're doing the right thing and attracting people to your brand.
Finding the right people to work with not only saves you time to focus on your gifts but it allows you to find success with other people.
Resources Mentioned
To create white or black backgrounds look for photo boxes on Amazon.
Marble tiles or wood surfaces from Home Depot can also be used as backdrops for your photos.
Dropbox and Google Photos– for photo storage
VSCO – Community and tools for creators
Contact Links
Bri Lobato
MVMT
Gift Biz Resources
Where are you in your business building journey? You may be further along than you think. Take this quiz to find out. At the end, you'll have access to a free download to help you along. P.S. This is not a quiz where your result gets published to social media. It's for your eyes only :o)
Feel the pride and satisfaction of turning your passion into a profitable business. Become a member of the Makers MBA program and access valuable videos, worksheets, and guides and connect with a community of gift biz builders just like you. It's time to get moving on your dream. Get started today!
If you found value in this podcast, make sure to subscribe and leave a review in Apple Podcasts or Google Podcasts. That helps us spread the word to more makers just like you.
Thanks! Sue