165 – She Gets Us! with Gwen Bortner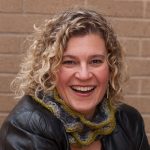 Gwen Bortner is a speaker, trainer and consultant focused on the craft enthusiast niche.
Her passion is working with small business owners helping them reach their individual success goals.
She calls it the light bulb moment. That moment when everything clicks into place. When an obstacle is overcome or when a goal is met or a long sought-after answer is realized.
Gwen has taught craft and business classes throughout the country for over 15 years. She is the author of Entree to Entrelac, an instructor for Craftsy, and the past Interim Executive Director of The National Needlearts Association.
Being a passionate believer in abundance, Gwen knows that when we work together to improve our industry, our individual businesses improve as well.
The Start of GwenBortner.com
Back in college, Gwen reconnected with her childhood love of knitting. For a short time she worked in a yarn shop with the thought that someday she'd have her own yarn business.
With a degree in computer science, she worked for Ernst and Young and ran an IT department for a phone company. During the dotcom down-turn in early 2000, she laid herself off, focused on her hobby of knitting and started a company called Knitability. As the business advanced, she realized that what made her really happy was being a knitting instructor.
Three years ago, she decided to combine her historical experience in the professional business world with her current experience in the crafting industry. This became GwenBorton.com.
Business Building Insights
To be successful long term, you have to treat a hobby like a business.
One part of marketing is the passion and excitement you project onto your product.
When starting a business ask yourself: "What are my true goals and objectives?" Get down to specifics!
Being in business completely changes your relationship with your hobby.
When making a plan, the key to action is to determine the most critical next step.
Don't compare the first or second chapter of your business story to someone else's chapter twenty. Focus on your own journey.
Learning in and of itself has zero value, applying learning has value.
Handle your email well: Read it and delete it, respond to it, & file it.
Contact Links
Gwen's Weekly Course of Action
Gift Biz Resources
This book will help you identify where the holes are in your business and show you EXACTLY how to fix them. You'll learn from owners just like you who are seeing real success, growing their companies and living their dream.
If you found value in this podcast, make sure to subscribe and leave a review in Apple Podcasts or Google Podcasts. That helps us spread the word to more makers just like you.
Thanks! Sue