166 – Are You REALLY Serving Your Customers? with Jim Lederer of Bluegrass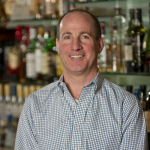 Jim has spent over thirty years in the restaurant business.
Companies he's worked with that you may recognize even if you aren't local, are Stouffers Restaurant Corporation, Don Roth's, and Crawdaddy Bayou.
Jim has traveled and consulted in the food & beverage industry for Universal Hospitality. He also started the Restaurant Row Hospitality Group, which empowered a number of independent restauranteurs while he was President of the Board at the Wheeling and Prospect Heights area Chamber of Commerce.
Fourteen years ago, Jim decided to go off on his own and open Bluegrass. He's taken the fine dining approach to a casual setting. Adding in traditional southern cuisine and a lively atmosphere, Bluegrass is always, "the place to be."
The Start of Bluegrass
Back in high school Jim started throwing parties in his backyard. It was fun for him to create an event and see it come to life. That's how he caught the entertainment bug. From the very beginning, he treated it more like a business than just a high school party and Jim's never looked back!
Business Building Insights
You don't work for a company. You work for an individual and you work for a mentor.
Find someone who will help you craft whatever you want to get out of each job you take.
Walk out of each job with new knowledge that you can use for your future plan.
Take your strengths and pair them with your weakness as you add employees or partners.
One's failure is another person's opportunity.
Change or be changed: Keep changing and keep current.
If you have a good business and you have a good product. People will seek you out.
It's service that separates most of the commodity products.
Business is about relationships. Connect at a community level.
You have to separate yourself from the rest by having something that stands out.
When you build your skills, you build your knowledge.
Contact Links
Gift Biz Resources
If you found value in this podcast, make sure to subscribe and leave a review in Apple Podcasts or Google Podcasts. That helps us spread the word to more makers just like you.
Thanks! Sue