141 – How a Blog Fits Your Biz with Nicole Regan of Cedar & Rush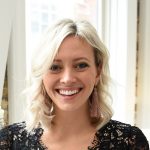 Cedar & Rush is a Chicago based style and entertaining blog empowering women to feel confident in social settings and have the courage to stand out.
After graduating from the University of Iowa with a degree in business finance, Nicole found herself at a crossroad. With no map or clear direction, she moved to Cedar and Rush, the intersection of her first Chicago apartment!
She spent the first seven years of her career in finance, but through her blog, made the leap to founding her own social media business three years ago.
The Cedar & Rush Story
The "cliche" blog start … so she says! [3:18]
The vision and development of Cedar & Rush. [5:56]
The extension of Cedar & Rush into social media services. [17:28]
Candle Flickering Moments
The two biggest struggles her social media clients face. [21:20]
Reality sets in after six months of business startup bliss. [25:42]
Learning how to sell. [27:52]
Business Building Insights
You can be credible and a professional in a topic when you research and share. [7:41]
The value of asking your audience what they want to know and read. [8:59]
Proper interaction within a Facebook Group. [11:12]
A big idea for YOU about monetizing through affiliate links. [13:20]
Using influencers is a great way to attract attention. [31:10]
Building Your Blog
Ways to share content without having a blog. [33:57]
What is the benefit to having a blot? [41:08]
3 initial steps to setting up your blog for success. [35:54]
Where to go for content inspiration. [43:38]
Resources Referenced in this Episode
Reward Style – Invitation-only end-to-end content monetization platform for top-tier digital style influencers and brands around the world.
Shop Style – A global monetization platform for fashion and lifestyle influencers.
Contact Links
If you found value in this podcast, make sure to subscribe and leave a review in Apple Podcasts or Google Podcasts. That helps us spread the word to more makers just like you. Thanks! Sue