253 – How Adding a Service Like This Guarantees Repeat Business with Charita Lucas of dOSA Naturals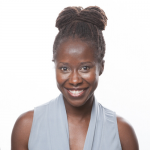 dOSA Naturals is all about paying homage to the women who paved the way for Charita and her two sisters.
They were inspired by stories of their Great Grandma Dosa who was born in Mississippi and had an affinity for Magnolias. Grandma Dosa instilled a strong sense of pride and simple beauty and stressed the importance of honoring the outside of your body as well as the inside.
Not only did she insist on using natural methods to accentuate her natural beauty, she also understood and advocated for daily skin care regimes free of harmful chemicals. She knew that natural was better.
"Less is more," defines the brand today since most of their products contain less than 9 powerfully effective ingredients.
dOSA is also environmentally conscientious. They pay their customers to ship back their empty containers.
BUSINESS BUILDING INSIGHTS
The universe contains enough for everyone. Don't get discouraged because there's a place for you even in a well populated category.
Your first thoughts about what your business is going to be will change along the way. Keep going and trust yourself. We all evolve.
Feedback is what makes your product better. Be open. Listen to the advice of friends and hear what your customers are looking for.
Take the first step. If you don't make a move, you won't have a successful business.
You can't build a business in a place of desperation.
Focus on the opportunities all around you. Shift your mindset to the positive. Believe that you can.
Get in tune with your intuition. Listen and follow it.
Asking for help is a sign of strength, not weakness. Tap into your connections and seek help. It's the way to grow.
Believe in the abundance of the universe and find ways to make your brand stand out.
Incorporate easy ways for people to repurchase your product.
Your brand is everything. Make sure not to dilute it. Let people know what you stand for and stay aligned to that.
CONTACT LINKS
Join Our FREE Gift Biz Breeze Facebook Community
Become a Member of Gift Biz Breeze
If you found value in this podcast, make sure to subscribe so you automatically get the next episode downloaded for your convenience. Also, if you'd like to do me a huge favor, please leave a review. That helps other creators like you find the show and build their businesses too.
Thank so much! Sue