035 – Cleaning Up in the Soap Making Biz with Jen Eby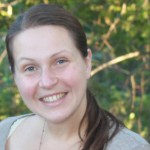 Jennifer Eby along with her husband Matthew own Eby Farms LLC. It is a pasture based, 36 acre working farm and homestead in rural southwestern Michigan.
With her bubbly personality and contagiously positive outlook on life Jennifer has taken the simple body product of soap and created a thriving home-based (stay-at-home mom) business.
In 2010 Jennifer started making soap and the next year she attended one local craft show. This has now grown into over 5,000 bars sold per year. Jen and her family attend over 13 regional shows, wholesale accounts, website sales and farmer's markets.
Jennifer has earned her title of "The Soap Lady" with hours of research, production and time spent with the customers she loves.
Motivational Quote

Business Inspiration
Why soap making? [7:00]
Learning the trade [7:45]
A Candle Flickering Moment
Revising the plan to balance their family life while still keeping the business alive [15:55]
Business Building Insight
When they saw that soap making could be a real business [10:36]
How to price product correctly [13:00]
Success Trait
Jen's overall friendly and approachable style lead to strong sales at craft shows and a natural attraction of customers supporting their success [21:46]
Productivity/Lifestyle Tool
A paper calendar that contains all the elements of the running of the family and farm
Valuable Book
Martha Rules: 10 Essentials for Achieving Success as You Start, Build, or Manage a Business by Martha Stewart
Contact Links
Phone – 269-535-6857
If you found value in this podcast, make sure to subscribe and leave a review in Apple Podcasts or Google Podcasts. That helps us spread the word to more makers just like you. Thanks! Sue