172 – Lobby Pop Ups for the Corporate Biz Win with Annette Pardun of Fill My Jar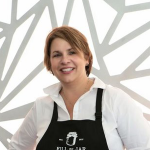 Annette started Fill My Jar Candy Company three years ago, introducing the world to a unique line of handcrafted yet traditional caramel, toffees and chocolate barks.
She grew up in a large Italian family where everything centered around the kitchen. There was always good food and a large table to gather around.
Even when she was young, Annette loved showing people she cared about them by making delicious dishes and sweets.
When Annette started her own family, she made homemade treats and candy to give as gifts for holidays, or as a way to say thank you to family, neighbors, friends, teachers, coaches and co-workers.
After raising her daughters, she decided it was time to return to school and start on a path of making her dream a reality.
Business Building Insights
Sometimes you have to have a "what the hell" attitude to discover new possibilities.
Narrow down your offerings based on what works for you and your customer.
Be involved in local craft shows to get your name out.
Regarding your website, you can't just create it and think people will automatically find and buy from you. You need to direct people there.
Use Facebook in the beginning to get visibility. This is a great place for your friends to learn about and support your business.
Make sure that your business card has details of other ways people can reach you.
A variety of vendors and products brings sales to everyone because it attracts a wider audience.
It makes a huge difference to have support and people that believe in what you're doing. Make sure to build that team of people for yourself.
Establishing a program of lobby pop up shops can be a large source of revenue for your business and get you in front of corporate decision makers you'd never meet otherwise.
Contact Links
Gift Biz Resources
If you found value in this podcast, make sure to subscribe and leave a review in Apple Podcasts or Google Podcasts. That helps us spread the word to more makers just like you.
Thanks! Sue