133 – The Power of the Pivot with Ryann Gaspara of GasparaFlora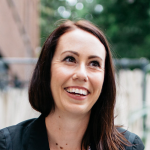 Ryann is the founder and designer behind GasparaFlora, a company that specializes in corporate gifting.
But it wasn't always that way.
GasparaFlora originally launched in April of 2016 as a company focused on hotel welcome gifts for weddings. Very quickly Ryann recognized an opportunity and chose to pivot. Since that time, they've morphed into corporate gifting.
Ryann's passion lies in branding, design and creating unique experiences for her clients and their recipients.
She uses intuition and personal style to design thoughtful gifts. Part of her customization skill lies in sourcing local artisans and small-batch companies.
Ryann enjoys making every day a special occasion. She says she has never met a glass of bubbly she didn't like.
The GasparaFlora Story
Pivoting almost right from the start. [3:34]
The GasparaFlora customization strategy. [11:14]
Ryann's first interaction with a potential client. [13:51]
Ryann describes one of her favorite designs to date. [21:10]
Ryann's sales style [23:21]
Candle Flickering Moments
Why and how she switched out her entire website platform. [7:36]
The mindset of a pivot. [24:39]
Business Building Insights
The prep work before launching a business. [4:41]
What Ryann likes about corporate clients. [6:21]
Advice for website creation. [10:08]
The value of 100% contracted business. [17:19]
Why Ryann uses local artisans. [18:53]
Hear how cold calling is working! [25:23]
Social media thoughts. [27:40]
Ideas for customer followup [31:30]
Ryann's approach to competition. [35:13]
A Final Piece of Advice
Interacting with your significant other as you grow your business. [39:38]
Productivity/Lifestyle Tool
Ship Station – Fast and simple web-based shipping.
Dymo Label Printer – An efficient solution for your professional labeling, filing and mailing needs.
Contact Links
If you found value in this podcast, make sure to subscribe and leave a review in Apple Podcasts or Google Podcasts. That helps us spread the word to more makers just like you. Thanks! Sue