134 – Twisted Pig or What the Oink? with Nick Lucas of Lucas Candies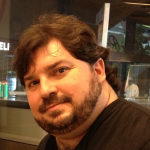 For over 100 years, Lucas Candies has been manufacturing their own chocolate confections.
It is a family business currently run by 4th generation Nick Lucas and his partner, Deb Bertrand.
Nick and Deb have kept the traditions that were started long ago while taking chocolate making to the next level by creating combinations that will both surprise and delight your palate.
Their number one product and most loved is the PMS bar. (PMS = Peanut Butter, Milk Chocolate, Crushed Potato Chips and a Semi-Sweet Chocolate Drizzle.)
The company has been featured in many Forbes Magazine, The Today Show, and Fox News to name only a few.
The Lucas Candy Story
Nick's progression and final decision to join the family business. [4:12]
The changes to Lucas Candy when Nick took over. [7:50]
The newest venture is wholesale through trade shows. [9:33]
A community tradition. 121 years in the same store location. [13:58]
The division of tasks between Nick and Deb. [21:05]
A description of true candy cane production versus the processed ones we see. [23:00]
The candy cane show plan. [25:11]
Why the creative names for Lucas Candies products. [36:26]
The road trip that resulted in an entire store redesign. [41:34]
Candle Flickering Moments
120 year anniversary celebration and an unexpected surprise. [21:48]
Attention from the local paper let to CBS, which led to NBC, Zagot and more! [25:51]
Business Building Insights
The most important thing if going into a family business. [6:23]
90% of the business is still retail. [8:59]
Trade show talk – catching buyer attention. [10:49]
Getting national exposure and how they use that now. [12:06]
Attracting new customers into a brick and mortar shop. [15:11]
What to include when you create a website. [18:13]
Valuable Resource
Retailers Confection Association of Philadelphia (RCAP) – Joining industry specific trade shows and becoming a member of the industry community is important. [40:44]
Productivity/Lifestyle Tool
Shopkeep – The POS system they use that allows trackable intelligence for future projections. [38:17]
Final Advice
If you are just starting out. Go for it. [43:45]
Contact Links
If you found value in this podcast, make sure to subscribe and leave a review in Apple Podcasts or Google Podcasts. That helps us spread the word to more makers just like you. Thanks! Sue