046 – From Freelance to a Flock with Johanna Fritz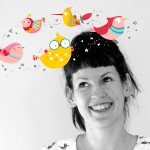 Johanna has been a freelance illustrator for more than ten years and works together with publishers, manufacturers, and advertising agencies.
She is currently represented by the agency Wundergarden.
Her target market is children and those who like fun characters and happy colors.
Johanna is already known in her industry for being active and engaging on all kinds of Social Media Channels. Based on this experience and exposure, she started a second business called Fritzi Flock. It is all about growing illustrators' businesses to the next level. This includes coaching, workshops, interviews and a lot more.
Motivational Quote

Business Inspiration and Development
The light bulb moment [4:17]
First paid project – Weekly cartoon [6:14]
Forming Fritzi Flock and The Doodle Challenge [9:02]
Getting Started in Freelancing
How to get your first clients [14:02]
Getting known by publishers [15:52]
Business Building Insight
Listen to your flock [12:28] and [20:05]
Nurturing her customers [18:58]
How Johanna manages her day [21:32]
Success Trait
Johanna is a hustler and looks forward to getting up every morning knowning she can illustrate and coach.
Productivity/Lifestyle Tool
Asana – With tasks, projects, conversations and dashboards, Asana enables teams to move work from start to finish.
Recommended Book
How to Style Your Brand: Everything You Need to Know to Create a Distinctive Brand Identity by Fiona Humberstone
Contact Links
Snapchat – @byjohannafritz
Periscope – KJohannaFritz
If you found value in this podcast, make sure to subscribe and leave a review in Apple Podcasts or Google Podcasts. That helps us spread the word to more makers just like you. Thanks! Sue