050 – Unlocking the Treasures of Live Video with Kim Garst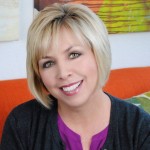 Kim Garst is the best selling author of "Will The Real You Please Stand Up; Show Up, Be Authentic and Prosper in Social Media". She is also the CEO of Boom Social, a social selling training and consulting company that helps businesses of all sizes leverage social and digital marketing strategies to increase their traffic, leads, and sales.
Kim is internationally recognized as a thought leader in the social media space. Forbes named her as one of the Top 10 Social Media Power Influencers and she regularly contributes to Entrepreneur.com and Huffington Post. Her own blog, kimgarst.com, is one of the top social media resources in the world.
Kim lives in Tampa, FL with her husband and two fur babies.
Motivational Quote

Live Video Insights
What is live video and why use it for my business? [6:12]
Attracting the right audience on Periscope and Facebook Live [8:43]
Kim's direction on how it's actually a time saver. The multi-purposing plan. [14:60]
What if I'm scared to start? [18:27]
Social Media Insights
What platforms should you really be on [20:13]
Facebook Personal Page versus Fan (Like) Page – Caution! [23:21]
A Candle Flickering Moment
How did Kim overcome her concerns about streaming "live?" [7:08]
How Kim faces her fears [29:26]
Customer Success Stories
Story One: She made over a million dollars! [9:32]
Story Two: A whole new way to bring in sales – for her and others [12:34]
Success Trait
Stubbornness – Kim refuses to give up!
Productivity/Lifestyle Tool
Slack – Bring all your communication together in one place. It's real-time messaging, archiving and search for modern teams.
Trello –  Keep track of everything, from the big picture to the minute details.
Valuable Book
Hug Your Haters: How to Embrace Complaints and Keep Your Customers by Jay Baer
Will the Real You Please Stand Up; Show Up, Be Authentic and Prosper in Social Media by Kim Garst
Contact Links
If you found value in this podcast, make sure to subscribe and leave a review in Apple Podcasts or Google Podcasts. That helps us spread the word to more makers just like you. Thanks! Sue